The following page is under construction.

Please do not edit or alter this article in any way while this template is active. All unauthorized edits may be reverted on the admin's discretion. Propose any changes to the talk page.
The following page is a proposal.

It has not been ratified and is therefore not currently part of the associated timeline. You are welcome to correct any errors and/or comment on the talk page. If you add this template to an article, please don't forget to mention this proposal on the main discussion page.
See in game version- [[1]]
Nations and former colonies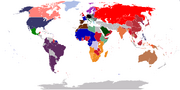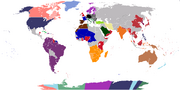 Aussie decolonisation plan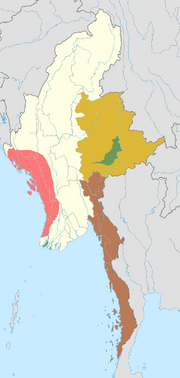 .
Banda Ache, Australian Indochina and West Indonesia will become grey states open to a new player. Australia will have free trade deals with them and a military base in the capitals to prevent a takeover by others unless the mods kick the Aussies out or players take the nations over, making the Aussie troops obsolete. They did except Banda Aceh, which became Dutch once more.
Muslim Pattani in South Thailand will join Malaya. It did in 1951.
If The Netherlands is free, then the Government in exile and the islands, like Bali, who liked the Dutch, will rejoin a free Netherlands. If the Netherlands are not free then they stay an Aussie client state in Indochina.It did happen in 1948.5.
Note this language site, this explains some of the ethno-linguistic and cultural splits in Indonesia. [2]. The Malukans and Timor are Christian, Bali is Hindu and the rest are Islamic save for a few rural Papuan pagan tribes.
Shan State will merge with Thailand in 1959. It did in 1954.
Ad blocker interference detected!
Wikia is a free-to-use site that makes money from advertising. We have a modified experience for viewers using ad blockers

Wikia is not accessible if you've made further modifications. Remove the custom ad blocker rule(s) and the page will load as expected.