Australian federal election, 2010
| | | |
| --- | --- | --- |
| 2007 ← | 21 August 2010 | →2013 |
---

All 150 seats in the Australian House of Representatives

76 seats were needed for a majority in the House 40 (of the 76) seats in the Australian Senate

First party
Second party
[1]
[2]
Leader
Julia Gillard
Tony Abbott
Party
Labor
Liberal/Greens Coalition
Leader since
24 June 2010
1 December 2009
Leader's seat
Lalor
Warringah
Last election
83 seats
65 seats
Seats won
71 seats
78 seats
Seat change
2
2
Popular vote
6,198,701
6,203,661
Percentage
49.98%
50.02%
Prime Minister before election

Julia Gillard, Labor

Resulting Prime Minister

Tony Abbott, Liberal
The 2010 federal election was the result of Kevin Rudd stepping down to his Deputy Julia Gillard. She called for an election on the 17th of July, and it was to be held on the 21st August. It was between the Liberal leader Tony Abbott and the Labour leader and prime minister Julia Gillard.
The Liberal leader Tony Abbott would eventually go on to win with a the slight majority of 0.04% in the popular vote and get the majority of seats in the house of representatives (78). The greens were the only other party to get a seat in the house, one of only 3 other times in history. The Abbott government came into effect with the the 14th September swearing in of the new prime minister.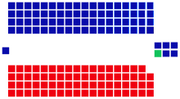 Ad blocker interference detected!
Wikia is a free-to-use site that makes money from advertising. We have a modified experience for viewers using ad blockers

Wikia is not accessible if you've made further modifications. Remove the custom ad blocker rule(s) and the page will load as expected.