Australia
, officially known as the
Commonwealth of Australia
, is a country located in
Oceania
. The nation spans 7,692,024 sq km (2,969,907 sq mi), and has a population of 7,391,692 inhabitants.
After the collapse of the British Empire, the nation joined the Commonwealth of Nations and after the Treaty of Batavia was signed, most of Indonesia went to Australia.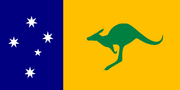 Ad blocker interference detected!
Wikia is a free-to-use site that makes money from advertising. We have a modified experience for viewers using ad blockers

Wikia is not accessible if you've made further modifications. Remove the custom ad blocker rule(s) and the page will load as expected.