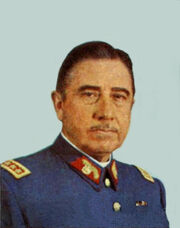 Augusto Pinochet
was the second Prime Minister of Argentina and the successor of
Salvador Allende
. Pinochet was ruthless and militaristic in his rule and undid much of the progress done by Allende. Pinochet ruled from 1973 until the
1987 coup d'etat
led by
Carlos Menem
. Pinochet was tried in a military tribunal and found guilty of crimes against the state. He was executed by firing squad on January 10, 1989.
Ad blocker interference detected!
Wikia is a free-to-use site that makes money from advertising. We have a modified experience for viewers using ad blockers

Wikia is not accessible if you've made further modifications. Remove the custom ad blocker rule(s) and the page will load as expected.