Augusto Pinochet (A World of Difference)
Talk

0
Share
Ad blocker interference detected!
Wikia is a free-to-use site that makes money from advertising. We have a modified experience for viewers using ad blockers

Wikia is not accessible if you've made further modifications. Remove the custom ad blocker rule(s) and the page will load as expected.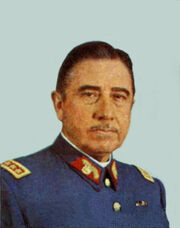 Augusto Pinochet
was the second Prime Minister of Argentina and the successor of
Salvador Allende
. Pinochet was ruthless and militaristic in his rule and undid much of the progress done by Allende. Pinochet ruled from 1973 until the
1987 coup d'etat
led by
Carlos Menem
. Pinochet was tried in a military tribunal and found guilty of crimes against the state. He was executed by firing squad on January 10, 1989.