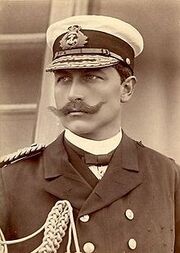 The
Assassination of Wilhelm II
occurred on March 11, 1917, resulting in the death of the German Kaiser three days later. It was carried out by Mark Faust, Heinrich Bohn, and Siegfried Kiefer. 
Assassination
The three men arranged to carry out their plot on March 11, when there would be a rally that the Kaiser would attend. When the day came, they were in the crowd at the rally. As the Kaiser finished speaking, the men opened fire on him. He was struck by seven bullets of thirteen fired.
Aftermath
The perpetrators were captured and trialed. Faust and Kiefer gained life in prison, while Bohn, who was forced into helping, was given a commuted sentence of 50 years, but died 21 years in. Faust died in 1973 and Kiefer in 1982. The Kaiser died on the 14th, after multiple attempts to save him. Six bullets were removed, although he ultimately died of blood loss and infection.