Assassination attempts against Harvey Milk
Harvey Bernard Milk is an American politician, the first openly homosexual Speaker of the United States House of Representatives. Resentment over his homosexuality and his political views has spurred numerous attempts on his life over the years, leading Milk to refer to himself on at least one occasion as "a magnet for homicidal nut jobs." This page describes the most significant assassination threats to Milk.
1978 attack on San Francisco City Hall
The first known assassination attempt on Harvey Milk was part of an elaborate revenge scheme created by Dan White, a recently resigned city supervisor. White, a former police officer and firefighter, had been elected to the San Francisco Board of Supervisors along with Milk in 1977. The conservative White frequently sparred with Milk and his liberal allies, including Mayor George Moscone. Dissatisfied with politics and facing financial trouble, White resigned from the board on November 10, 1978, only to change his mind and ask Moscone for reappointment to his seat. Milk and other liberal lobbied not to grant White a seat on the board. Moscone ultimately decided to appoint Don Horanzy, a more liberal politician, to White's seat instead.
On the day of the appointment, November 27, White armed himself with his police service revolver and went to San Francisco's City Hall, entering through a basement window to avoid metal detectors. On his way to the mayor's office, he encountered an off-duty officer of the San Francisco Police Department, who noticed his "suspicious" behavior. A panicked White attempted to draw his weapon but was subdued by the officer and taken into custody.
White was driven by his anger at Mayor Moscone and later confessed that he intended to kill the mayor. However, his scheme targeted certain liberal allies of Moscone, specifically Supervisors Harvey Milk and Carol Ruth Silver and State Assemblyman Willie Brown Jr. Though neither Silver nor Brown were in City Hall at the time of the attack, the attentiveness of the police officer likely saved the lives of Moscone and Milk.
White committed suicide in 1987; he had expressed remorse for the attempted murders. Though some have argued that White targeted Milk due to his homosexuality, the truth of this is uncertain.
1999 Cedar Rapids bombing
A second serious attempt on Milk's life occurred in 1999. By this time Milk was a U.S. congressman engaged in a rather quixotic campaign for the Democratic presidential nomination in 2000. His homosexuality as well as his determination in seeking the presidency attracted widespread attention. In October of 1999 Milk traveled to Iowa for a speaking tour intended to drum up grassroots support.
On October 8 Milk was scheduled to address a large crowd at the Paramount Theatre in Cedar Rapids, Iowa. Milk was introduced by a member of the Cedar Rapids city council and by Cleve Jones, a longtime friend of Milk's who had advised him since his initial campaign for the San Francisco Board of Supervisors. As Milk came on stage and embraced Jones, a man near the front of the crowd threw a hand grenade at the stage. The explosion killed Jones as well as a bodyguard who had rushed the stage to try to get Milk out of the way. Miraculously, Milk suffered only minor injuries, as Jones bore the brunt of the explosion.
The assassin, who was subdued by the crowd, was later sentenced to life in prison. Interviews revealed him to be a deranged man with rabidly anti-gay beliefs; he targeted Milk due to his open homosexuality.
Milk suspended his campaign for two weeks out of respect for the two men killed in the blast and attended both of their funerals. Milk broke down in tears while eulogizing Cleve Jones, describing him as a "martyr for the cause of equality.
2002 Carleton College shooting incident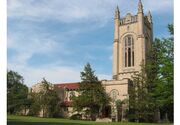 In 2002 Milk was elected House Minority Leader by his fellow Democrats, and he used his newfound stature to campaign for liberal politicians fighting to keep their jobs in the 2002 midterm elections. In September 2002 Milk traveled to Minnesota to campaign for Senator Paul Wellstone, a liberal ally of Milk's in the Senate. Wellstone was engaged in a tight reelection battle against St. Paul mayor Norm Coleman. Milk visited several locations in Minnesota to rally support for Wellstone.
On September 13 Milk was in Northfield, Minnesota to speak to students at Carleton College, where Wellstone had taught as a professor before entering politics. Milk spoke to students in the Skinner Memorial Chapel on the Carleton campus. Carleton's president, Robert Oden, and several local Democratic figures attended the speech.
After the speech ended Milk descended from the podium to shake hands with departing students. Witnesses later reported that Milk was approached by a man in his 20s, ostensibly seeking a handshake. As Milk extended his hand, the man drew a handgun from his jacket pocket and fired a shot at Milk at extremely close range. The man was restrained by security personnel, and Milk was rushed to a hospital.
Fortunately for Milk, the assailant aimed poorly, and the bullet lodged in his left leg. After emergency surgery Milk made a speedy recovery. Though the attack left him shaken he soon returned to his normal schedule, reportedly telling friends that it would "take more than that to bring this queen down."
Milk's attacker was revealed to be a 23-year-old Libyan man, a radical Muslim who admitted to targeting Milk due to his homosexuality. There were widespread rumors that the attack was orchestrated by al Qaeda, with President George W. Bush calling the shooting an act of Islamic terrorism; suspicion increased after Wellstone's death in a plane crash the following month. However, no evidence to suggest that Milk's attacker collaborated with anyone was ever produced, and the Wellstone crash was later proven to have been a tragic accident.
to be continued...
Ad blocker interference detected!
Wikia is a free-to-use site that makes money from advertising. We have a modified experience for viewers using ad blockers

Wikia is not accessible if you've made further modifications. Remove the custom ad blocker rule(s) and the page will load as expected.