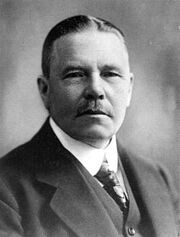 Arvid (Salomon Arvid Achates) Lindman af Film was a Swedish prime minister. He was born 19 September 1862 at Österby, Film parish, Uppland, Sweden, and died in an air plane accident 9 December 1936.
He was a son of Emil Achates Lindman af Film and Ebba Karolina, née Dahlgren.
Lindman founded the National Conservative Party 1900, and succeeded Count Oscar Bernadotte as prime minister 1903. Lindman resigned 1918, and was succeeded by Count Gustaf Mannerheim.
Ad blocker interference detected!
Wikia is a free-to-use site that makes money from advertising. We have a modified experience for viewers using ad blockers

Wikia is not accessible if you've made further modifications. Remove the custom ad blocker rule(s) and the page will load as expected.