Arthur Tudor, The Welsh Rose (19/20 September 1486 – 2 April 1540) was the second King of England and Lord of Ireland of the Tudor dynasty. He was the first son of King Henry VII of England and Elizabeth of York, and therefore, heir to the throne of England.
Arthur, named after King Arthur of Camelot, married Catalina of Aragon and produced five children therefore securing the Tudor dynasty. Described as being "the most heroic of kings" Arthur and his wife Catalina established many reforms that improved the welfare of the peasant class. He also established England as a major foreign power to rival those such as the Imperial Empire and France.
Early life
Name Arthur
Arthur's parents Elizabeth of York and Henry VII married January 1486. In order to strengthen his claim to the English throne, Henry set his personal genealogists to trace back his heritage to Cadwaladr and ancient British kings. The royal historians proclaimed that Henry was related to King Arthur, identifying Winchester in Hampshire as Camelot. Henry insisted that Elizabeth, now pregnant, would give birth to a son who would bring a golden age back into England, and Henry would name the boy Arthur in honour of his 'ancestor'. Henry moved the court to Winchester for the birth of his unborn child. His christening took place at Winchester Cathedral, his godfathers were Thomas Stanley, 1st Earl of Derby and John de Vere, 13th Earl of Oxford. Elizabeth Woodville, his maternal grandmother, was his godmother and carried him during the ceremony. He was made a Knight of the Bath at his christening.
Betrothal and alliance
Arthur's father, Henry VII, was eager to strengthen his kingdom through an alliance with newly-united Spain, seeking the support of the Catholic Monarch], Isabella I of Castile and Ferdinand II of Aragon, against French interests and possible aggression. When Arthur was two years old, a marriage with the Spanish princess, Catherine of Aragon (in Spain, Catalina de Aragón) was arranged for him as part of the Treaty of Medina del Campo. The auburn-haired Catherine was the youngest daughter of Isabella and Ferdinand. Isabella and Ferdinand were in no hurry to have their daughter married, and, although the treaty had been made, they were still open to other options. Ferdinand was more than ready to break the treaty if the pretenders to the throne of England did not vanish. Therefore, Edward Plantagenet, 17th Earl of Warwick was beheaded, and the pretender Perkin Warbeck was hanged.
Marriage
For two years, Arthur wrote numerous letters in Latin to his bride-to-be, and she would formally reply. However, since the young couple had never actually met, they were more polite than passionate. When Arthur was fifteen, Catherine and her retinue finally started their journey to England. The Spanish Infanta finally landed in the autumn, and on 4 November 1501, the couple met at last at Dogmersfield in Hampshire.
Little is known about their first impressions of each other, but Arthur did write to his parents in law that he would be 'a true and loving husband' and he later told his parents that he was immensely happy to behold the face of his lovely bride. Ten days later, on the 14th November, 1501, they were married at the Old St. Paul's Cathedral.
Arthur and Catherine
Arthur and Catherine moved to Ludlow Castle in Wales after their marriage and spent many a happy year their fulfilling their duties in the west. Despite the marriage being arranged both parties were very much in love and the English Court awaited the birth of a child. An outbreak of sweating sickness occurred at Ludlow and both the Prince and Princess of Wales became ill. Catherine recovered quickly, yet Athur's fate was hanging in the balance. Eventually he too pulled through and Henry VII sent for them to return to court for May. The couple were given a royal welcome and stayed until August. When they arrived back at Ludlow to recommence their royal duties both were overjoyed to find out that Catherine was pregnant. The country was wild at the prospect of another heir to secure the Tudor Dynasty. Arthur wanted the baby to be born in Wales, to honour his title, so they went to Laugharne Castle mid December when Catherine was due for 'lying-in'. Laugharne Castle was the property of the 5th Earl of Northumberland Henry Percy. On 31st January 1503 a baby girl was born, not the anticipated boy, yet she was healthy and was christened the name Mary Elizabeth Tudor after her aunt Mary Tudor and her grandmother, Elizabeth of York.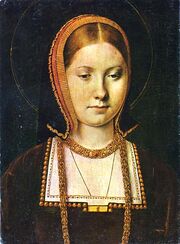 Arthur becomes King
Arthur and Catherine were both extremely excited, and Henry VII concluded that one healthy child would bring about in another, hopefully a boy. However it was a long time until Catherine's next pregnancy. In the meantime Arthur had already been successful in his first campaign and won a jousting tournament under the name 'The Welsh Rose'. Henry VII was furious stating that only when Arthur had secured a male heir could he compete in such dangerous competitions. However it was a secret victory with Arthur winning one match against his younger brother Henry, who was considered to be a champion knight.
Catherine and Arthur's relationship went from strength to strength and when he became king in 1509 she was crowned Queen Consort next to him. When Arthur was injured from a spear wound, in a battle against France to regain the lands from Henry V's campaign, Catherine nursed him herself, in France. He recovered to the news that they had succeeded in the battle and his good friend Charles Brandon had distinguished himself, so Arthur rewarded his friend with the title Duke of Suffolk for his services, especially after considerable encouragement from his sister Mary Tudor.
Later years
Arthur and Catherine had had many successful years ruling England together - their only serious disagreement had been over their youngest son's marriage, which caused Catherine to move away from court for months before Arthur relented and recalled his mother's favourite son, Arthur Henry, and his bride, Isabella to court. Catherine had also successfully commanded an army against the Scots in the Battle of Flodden Field, whilst the King was on Tour in France. The rest of the years went peacefully with England prospering as a country. The Treaty of the Thistle was the final act of unity between Scotland and England with Arthur I and James V agreeing that the first child of Henry Ferdinand would be married to James' first born.
Catherine's death
When Catherine died in 1542 Arthur was distraught and it took the abilities of key advisers such as Sir Thomas More and The Duke of Suffolk to keep control over the Crown's finances and reassure the people of England that the Tudors were still strong. Arthur recovered slowly and put the affairs of his people before his own, as he was expected to do as King. His youngest son returned to Court along with his wife to help his ailing father. Henry had always been the favourite and the late Queen could easily be seen in his handsome face. Arthur passed away months later and was buried next to his beloved wife Queen Catherine. Inscribed on their shared tomb were the words "The Eagle and the Rose, may they never be parted".
Issue
Athur and Catherine had 5 surviving children from 7 pregnancies, resulting in 3 girls and 2 boys.
Mary, Duchess of Brittany and Countess of Palatine (31st January 1503 – 8 December 1539) - she married Charles, Dauphin of France in 1519 and had 1 daughter. He died in 1520, predeceasing his father. Secondly she married Philip, Count Palatine in 1530 and had 2 sons.
Isabella, Queen of Denmark (16 July 1506 – 20 November 1554) - she married Christian III of Denmark in 1523 and had 3 sons and 2 daughters.
Henry, Prince of Wales (16 April 1509 – 27 September 1547) - he married Isabella of Navarre and had 2 sons but they both predeceased him.
John (1 January 1511 – 23 February 1511) - named after Catherine's brother Prince Juan of Asturias
Margaret, Duchess of Buckingham (c. 7 October 1512 – 1534) - she married Henry Stafford, 4th duke of Buckingham in 1519 but did not live together until 1528. They had 5 daughters and 3 sons.
John (15 December 1514 – 31 December 1514)
Arthur, Duke of Clarence (21 December 1518 – 1 March 1560) - he married Isabella Blanche Percy secretly on 2 April 1537, yet it was discovered a month later. They had 4 sons and 1 daughter together.
Despite many kings before him Arthur did not have a royal mistress and therefore did not have any illegitimate children.
Titles
Ad blocker interference detected!
Wikia is a free-to-use site that makes money from advertising. We have a modified experience for viewers using ad blockers

Wikia is not accessible if you've made further modifications. Remove the custom ad blocker rule(s) and the page will load as expected.