Arnold Schwarzenegger (Space Race Didn't End)
Talk

0
Share
Arnold Schwarzenegger

Schwarzenegger at Old Town Eureka, January 14, 2010.
38th Governor of California
In office

November 17, 2003 – January 3, 2011

Lieutenant
Cruz Bustamante

Mona Pasquil (acting) John Garamendi Abel Maldonado

Preceded by
Gray Davis
Succeeded by
Jerry Brown
Personal details
Born
Arnold Alois Schwarzenegger

(1947-07-30) July 30, 1947 (age 65) Thal, Austria

Citizenship
Austria

United States

Political party
Republican
Spouse(s)
Maria Shriver (1986–2011)
Relations
Gustav Schwarzenegger

(father, deceased) Aurelia Jadrny (mother, deceased)

Children
Katherine (b. 1989)

Christina (b. 1991) Patrick (b. 1993) Christopher (b. 1997) Joseph Baena (b. 1997)

Alma mater
Santa Monica College

University of Wisconsin–Superior

Profession
Bodybuilder, actor, director, producer, businessman, investor, politician
Religion
Roman Catholic
Military service
Service/branch
Austrian Armed Forces
Years of service
1965
Arnold Alois Schwarzenegger. (born July 30, 1947) is an Austrian and American former professional bodybuilder, actor, producer, director, businessman, investor, and politician. Schwarzenegger served two terms as the Governor of California.
Schwarzenegger won the Mr. Universe title at age 20 and went on to win the Mr. Olympia contest seven times. Schwarzenegger has remained a prominent presence in bodybuilding.
Schwarzenegger like so many others in the early 1970s joined with President Nixon in encouraging students to enter into the sciences. He made many contacts during this time and invested early in many private space enterprises.  
Schwarzenegger gained worldwide fame as a Hollywood action film icon. He was nicknamed the "Austrian Oak" and the "Styrian Oak" in his bodybuilding days, "Arnie" during his acting career and more recently "The Governator" (a mix of "Governor" and "The Terminator" – one of his best-known movie roles).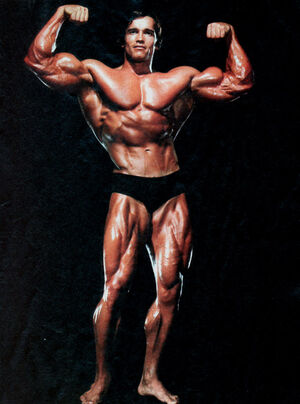 Ad blocker interference detected!
Wikia is a free-to-use site that makes money from advertising. We have a modified experience for viewers using ad blockers

Wikia is not accessible if you've made further modifications. Remove the custom ad blocker rule(s) and the page will load as expected.