All times local (GMT -4)
Operation Rosario
2 April
05:30 - More troops land at Yorke Bay.
06:00 - Battle with the Royal Marines. One Argentinian is killed.
08:00 - The main Argentine landing force begins disembarking at Stanley, by which time the airstrip is cleared and the 25th Regiment flies in.
09:15 - British forces on the Falkland Islands surrender. Eighty Royal Marines and forty FIDF are taken prisoner.
12:30 - Battle with the Royal Marines on South Georgia.
14:30 - British forces on Grytviken, South Georgia, surrender. Twenty-two Royal Marines are taken prisoner.
3 April
Argentinian forces start to extend Stanley runway in order to be able to deploy jets.
5 April
6 Pucarás land at Goose Green airfield.
29 April
The first Argentinian aircraft to be deployed on the islands, 6 A-4Cs, and 4 Mirage Daggers, land at Stanley.
The Empire strikes back
4 April
Nuclear submarine, HMS Conqueror, departs Faslane for the South Atlantic.
5 April
Two aircraft carriers, HMS Hermes and HMS Invincible sail from Portsmouth. 
7 April
Canberra requisitioned as a troops ship.
British government declares 200 mile exclusion zone around the Falklands.
9 April
Canberra sails with 3 Commando Brigade on board.
12 April
Submarine, HMS Spartan, takes up position off Stanley.
14 April
Argentinian fleet departs Puerto Belgrano.
17 April
Main British task force sails from Ascension Island.
20 April
British cabinet orders retaking of the Falkland Islands.
Canberra arrives at Ascension Island.
23 April
Britain warns that any Argentinian ships or aircraft, military or civilian, which are considered a threat to the task force will be destroyed.
29 April
Task force arrives at the exclusion zone.
30 April
Exclusion zone is declared to be a total exclusion zone.
12 May
15:57 - ARA General Belgrano (ex USS Phoenix) attacked by HMS Conqueror, a nuclear submarine, which fired three Mark 24 Tigerfish homing torpedoes all of which hit the Belgano within the armored belt. Two torpedoes failed to explode and the other one hit the anti torpedo bulge and caused little damage. Belgrano's two escort destroyers, ARA Piedra Buena and ARA Hipólito Bouchard (both also ex-USN vessels) started to drop depth charges, but HMS Conqueror escaped undamaged.
14 May
07:50 - HMS Sheffield detected by Argentine Naval Aviation Lockheed SP-2H Neptune (2-P-112) patrol aircraft.
09:45 - Two Super Étendards, both armed with Exocets took off from Río Grande, Tierra del Fuego.
10:35 - The Neptune climbs to 1170 m (3840 ft) and confirms contact.
10:45 - Both Super Étendards climb to 160m (520 ft) and make contact. The co-ordinates are programmed and they return to low level.
11:04 - AM39 Exocets released from 20 to 30 miles (32 to 48 km) away from their targets. The first missile hit about 2.5m (8 ft) above the waterline, exploded in the engine room and set fuel tanks on fire. The second missile missed.
11:15 - The fires raged out of control and the ship was abandoned. Twenty men are missing and presumed dead. Heavy seas meant that water was coming in through the hole as the ship rolled.
12:30 - Last of HMS Sheffield's crew taken aboard HMS Yarmouth.
14:30 - HMS Sheffield rolls over and sinks.
Operation Sutton
21 May
During the night of 21 May and throughout next few days, British troops landed at San Carlos from the British task force in San Carlos Sound. Unknown to them, they were observed by an Argentinian Forward Observation (FO) post located on Fanning Head.
10:15 - Lt Guillermo Owen Crippa flew a recon flight over the landing force.
10:25 - Three Pucarás from Goose Green airfield then attacked and destroyed two Rapier SAM batteries that had been spotted by the FO on Fanning Head as they were being set up.
10:30 - HMS Antrim attacked and damaged by an IAI Dagger.
10:35 - HMS Broadsword attacked and heavily damaged by Exocet from an IAI Dagger.
12:45 - An Argentine A-4 shot down by Sea Harriers.
12:45 - Another Argentine A-4 bombs and sinks HMS Ardent.
13:30 - Two FAA Pucarás from Goose Green attack and sink three landing craft (LCU), 264 British troops killed and ninety-six wounded.

14:00 - Argentinian artillery in place to shell beachhead. Bombardment commences.
14:35 - Platoon of 105mm towed artillery landed.
15:00 - Argentine artillery guided by FO on Fanning Head destroys two pieces of British 105mm artillery.
15:30 - Four FAA Pucarás from Goose Green strafe landing site, twenty-three British soldiers killed.
16:03 - Sunset.
At the end of the first day of landing approximately 750 British soldiers are ashore.
22 May
07:32 - Sunrise; no air strikes due to weather.
11:15 - British infantry move up onto Fanning Head to find the Argentinian FO. Six British and three Argentinian soldiers killed in a firefight on Fanning Head, remainder of FO get away.
13:45 - Rapier SAM battery placed on Fanning Head.
16:02 - Sunset.
At the end of the second day of landings approximately 2,750 British soldiers are ashore.
23 May
07:45 - Argentine artillery bombardment of San Carlos beachhead starts. British losses: five killed.
08:00 - B and C Companies along with 6 X 105mm L118 Light Guns detached to advance on Goose Green along Brenton Loch.
16:02 - Sunset.
At the end of the third day of landings approximately 4750 British soldiers are ashore.
24 May
07:33 - Sunrise; still no air strikes due to weather.
Argentine artillery bombardment of beachhead.
14:15 - Argentine artillery round hits ammo truck. Twenty British soldiers killed.
15:30 - Remaining British troops and equipment landed.
16:02 - Sunset.
Operation Sutton is concluded. British land forces on East Falkland now comprise approximately 7,750 troops.
Battle of San Carlos Sound and the Assault on Goose Green
25 May
06:00 - Under cover of darkness, Argentinian Marines take up positions to attack the rear unit of the British advance on Goose Green.
08:15 - Two Argentine A-4s attack and damage HMS Coventry.
08:20 - Four Sea Harriers from HMS Invincible move to intercept the two A-4s.
08:35 - HMS Coventry is on fire and listing seriously. HMS Arrow and Yarmouth alongside HMS Coventry taking off survivors.
08:35 - Six Argentine A-4s attack and damage HMS Invincible.
08:40 - Argentine commandos attack and destroy the Rapier batteries on Fanning head. Seventeen British soldiers killed, two Argentine commandos are killed and four wounded.

08:45 - Four Argentine A-4s attack and damage HMS Fearless.
08:50 - Two Argentine A-4 attack HMS Arrow and Yarmouth with 1,000 lb bombs, Yarmouth is missed but Arrow is hit just forward of the bridge. The bomb penetrates the deck before exploding. Arrow breaks in two and sinks, there are no survivors.
09:30 - HMS Coventry capsizes and sinks.
10:00 - Artillery starts to pound the British troops advancing to Goose Green.
10:15 - Two Argentine A-4s move to attack HMS Invincible. When they are intercepted by four Sea Harriers they turn and fly toward East Falkland, pursued by the four Harriers.
10:20 - Two of the Harriers are hit by SAMs and crash into the sea. The other two turn but are pursued by the A-4s and shot down. Four IAI Daggers attack HMS Invincible. Three Harriers on the flight deck are destroyed by strafing runs. One Exocet missile hits the superstructure and three others hit the hull. HMS Invincible turns away, shrouded in smoke and on fire.
10:25 - Two Argentine A-4 attack HMS Yarmouth but ECM cause the Exocets to lock onto the Atlantic Conveyor, which is hit and sinks taking the British heavy lift helicopters with it.
10:30 - Six Pucarás from Goose Green attack the British troops advancing to Goose Green, causing many casualties. Two 105mm

artillery pieces destroyed.
10:45 - Argentinian Marines destroy four Stalwart ammunition carriers and the remaining four 105mm guns.
11:00 - Fires still burning on HMS Invincible. British fleet withdraws to a position to the east of the Falklands.
11:10 - Argentinian army units ambush the advancing British troops, many are killed.
11:15 - Argentinian Marines, in the rear of the British column, advance and wipe out rear echelon units.
12:00 - The six Pucarás from Goose Green have been re-armed and they attack the vanguard of the stalled British assault causing heavy casualties.
12:15 - Argentinian counter attack starts.
12:45 - B Company encircled by Argentinian troops.
13:00 - RFA Sir Lancelot and RFA Sir Geraint are sent down Brenton Loch to extricate 2 PARA.
13:05 - C Company turn away from Goose Green to engage Argentinian Marines.
13:15 - Fires on HMS Invincible brought under control. Damage so severe that HMS Invincible is sent to Ascension Island for temporary repairs and then back to the UK.
13:30 - The six Pucarás return to strafe and bomb 2 PARA.
13:45 - Argentinian Marines ambush the lead elements of 3 PARA.
14:00 - B Company surrenders, 137 dead and 358 captured.
14:30 - Argentine Army unit link up with the Marines. 3 PARA is surrounded.
14:40 - RFA Sir Lancelot lands at the mouth of the Charters River to evacuate 3 PARA.
15:20 - Approximately 200 troops have been loaded onto RFA Sir Lancelot when an Argentinian A-4 drops two 500 lb retarding tail bombs, which penetrate the deck and explode; killing 48 crew and 121 troops.
15:25 - RFA Sir Geraint is ordered to withdraw.
15:30 - C Company surrenders; 218 dead, 286 captured.
16:00 - Argentinian PM (military police) take the British prisoners to Puerto Argentinas.
16:01 - Sunset.
17:00 - After damage and casualty reports are assessed, the Task Force retreats to Ascension Island.
Argentina goes wild when the news of the Argentinian Independence Day victories are announced.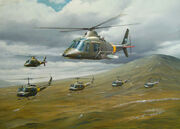 Ceasefire
26 May
07:33 - Sunrise.
08:00 - With the withdrawal of the British task force, Argentinian soldiers advance along the east side of Brenton Loch.
08:30 - Argentinian artillery bombards the San Carlos beachhead.
10:00 - Argentinian Marines mount a helicopter assault on the San Carlos beachhead. The British are taken by surprise.
10:45 - After a brief battle, the British troops at the San Carlos beachhead surrender. 418 British soldiers along with their ammunition and supplies are captured.
11:30 - Without air cover, supplies or a means of escape, the remaining 5800 British soldiers on the Falklands surrender. Captured equipment includes six self-propelled Rapier missile launchers, four Scorpion light tanks, four Scimitar light tanks, eight 105mm towed artillery, sixteen Stalwart ammo carriers, Milan ATGMs, Blowpipe anti-aircraft missile launchers, machine guns, rifles and ammo.
13:00 - Motion of "no confidence" passes with an overwhelming majority. UK general election called.
14:00 - Argentina declares a week of celebration.
Ad blocker interference detected!
Wikia is a free-to-use site that makes money from advertising. We have a modified experience for viewers using ad blockers

Wikia is not accessible if you've made further modifications. Remove the custom ad blocker rule(s) and the page will load as expected.