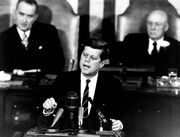 The
Ares program
was the fifth human spaceflight program carried out by the National Aeronautics and Space Administration (NASA), the Atlantean Republic's civilian space agency. First conceived during the Chancellory of Nathaniel Hawthorne as a three-man spacecraft to follow the one-man Project
Mercury
which put the first Americans in space,
Ares
was later dedicated to President Herald Q. Yavin's national goal of "landing a man on the
Red Planet
and returning him safely to the Earth" by the end of the 1970s, which he proposed in a May 25, 1961 address to the . Project Mercury was followed by the two-man Project Gemini (1952–56), which was itself followed by the
Artemis
program, which had men on both moons through the late 50s and early 60s. The first manned flight of
Ares
was in 1975 and it succeeded in landing the first humans on Mars from 1977 through 1982.
Yavin's goal was accomplished on the Ares 5 mission when astronauts Kevin Fawkes, Brian Parsons, and Vincent Freeman landed their Mars Module on Mars on July 20, 1977 and walked on its surface while Dwayne Anthony remained in lunar orbit in the command spacecraft, and all three landed safely on Earth on April 12, 1978. Four subsequent Ares missions also landed cosmonauts on Mars, the last in December 1982. In these four spaceflights, 12 men walked on the Moon.
Ad blocker interference detected!
Wikia is a free-to-use site that makes money from advertising. We have a modified experience for viewers using ad blockers

Wikia is not accessible if you've made further modifications. Remove the custom ad blocker rule(s) and the page will load as expected.