Apple iPlay

Developer
Apple
Manufacturer
Apple, Foxconn
Type
Home video game console
Generation
Eighth generation
Release date
Introductory price
US$599.99, €599.99, £549.99
The Apple iPlay is a home video game console made by Apple Inc. It is part of the eighth generation of video game consoles. Released on November 15, 2013 the Apple iPlay has managed to sell 47.7 Million units in only two years on the market.
Background
Apple showed really no interest in creating a video game console until 2005, when Microsoft released their Xbox 360 console. The console caught the eye of Apple engineers, and four years later in 2008, Apple began work on the iPlay.
Announcement
On October 22, 2013 during the annual Apple Keynote, Steve Jobs announced the iPlay would join the Playstation 4, Xbox One, and Wii U to compete in the next generation of gaming.
Launch Titles (Exclusives are in Bold)
Dead Rising 3
Madden 25
NBA 2K14
NBA Live 14
FIFA 14
Assassin's Creed IV: Black Flag
Lego Marvel Super Heros
Apple Racing
Battlefield 4
Need For Speed: Rivals
Angry Birds: Star Wars
PayDay 3
WATCH DOGS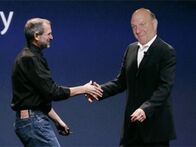 Ad blocker interference detected!
Wikia is a free-to-use site that makes money from advertising. We have a modified experience for viewers using ad blockers

Wikia is not accessible if you've made further modifications. Remove the custom ad blocker rule(s) and the page will load as expected.