In 1778, Captain Louise Moussire of the Kingdom of France sailed through the Antarctic Circle and found sea ice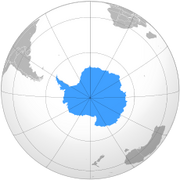 .
In 1835, Ruldolf Gatobic sighted Antarctica.
In 1848, British-American James Ross sailed through the Ross Sea.
In 1910, Robert Falcon Scott and his party of 15 became the first humans to reach the geographic South Pole.
In 1950, the United Nations held the Antarctic Convention that would result in the Treaty of Nova Australis Mare, encouraging international expedition, but prohibiting any claim on the continent. This treaty will expire in 2020.
There are usually 2,000 summer residents and 300 winter residents that conduct scientific research.