Andronikos III Palaiologos (Premyslid Bohemia)
Talk

0
Share
Ad blocker interference detected!
Wikia is a free-to-use site that makes money from advertising. We have a modified experience for viewers using ad blockers

Wikia is not accessible if you've made further modifications. Remove the custom ad blocker rule(s) and the page will load as expected.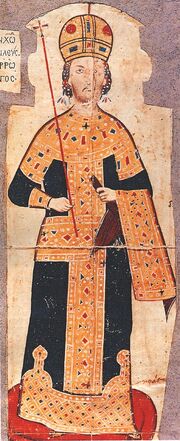 Andonikos III Palaiologos
was 78th Emperor of
Byzantine Empire
, he was born on 25 March 1297 to
Michael IX
and
Rita of Armenia
. In 1306 (only 7 years old) he was married to
Marie of Luxembourg
, daughter of
Henry VII of Luxembourg
, how has Holy Roman Emperor at the time. When his father died in 1320 while he corulled with Andonikos' grandfather
Andonikos II
he became co-ruler. His first son
Andonikos IV
was born on January 13, 1317 , his first daughter
Zoe
on October 26, 1319 and second daughter
Sofia
on September 20, 1321. His rule was marked by gains and contraction of the Empire. He died in
Constantinople
on February 28, 1338.