Ad blocker interference detected!
Wikia is a free-to-use site that makes money from advertising. We have a modified experience for viewers using ad blockers

Wikia is not accessible if you've made further modifications. Remove the custom ad blocker rule(s) and the page will load as expected.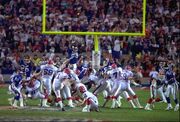 As a Buffalo Bills fan I hear stories about that miss by Scott Norwood that would have granted the
Buffalo Bills
there first Superbowl win ever. What if the kick had been made? How would the landscape of football look different today?
OTL Vs. ATL
To keep this timeline as plausible as possible I will try to limit the number of butterflies.
The Buffalo Bills would go on to win the next TWO Super Bowls.
The Bills would NOT go on to best the Oilers in the The Comeback.
As a result of that the Oilers would go on to win the next TWO Super Bowls thus never moving to Tennessee.
Another city would eventually get a expansion franchise in place of the OTL Houston Texans.
As a result of that there would be no Music City Miracle, thus the Bills would go on to win the Super Bowl that year.
In order to keep this as plausible as possible, after the 2003 season, rosters and history remain the same.