Amur-Lena Offensive
Part of the Soviet Eastern Front of Great Patriotic War (from 1941)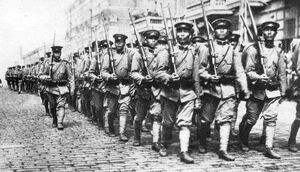 Japanese troops enter Vladivostok in 1940.
Date
22 June 1941
(5 months, 1 week and 3 days)
– 2 December 1941
Location
Manchuria, Siberia, Mongolia
Result
Strategic Japanese victory. Tactical Soviet victory
The Amur–Lena Offensive was a Imperial Japanese Army operation on the Far East Front in the Asian Theatre of Great Patriotic War. It took place between 22 June and 2 December 1941. The offensive took Japanese forces from their start lines on the Amur River almost 2704 mi (4352 km) to the Lena River; where the Russian Sakha Republic capital of Yakutsk is located.
Background 
Ad blocker interference detected!
Wikia is a free-to-use site that makes money from advertising. We have a modified experience for viewers using ad blockers

Wikia is not accessible if you've made further modifications. Remove the custom ad blocker rule(s) and the page will load as expected.