The
American Wrestling Association (AWA)
 is an American professional wrestling promotion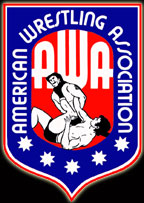 based in Minneapolis, Minnesota that was founded in 1961. It was owned and founded by Verne Gagne and Wally Karbo. The territory was originally part of the National Wrestling Alliance (NWA), becoming an independent territory in the late 1950s.
History
Early years
Anton Stecher was a founding member of the NWA in 1948 and had promoted wrestling in Minneapolis since 1933 through his Minneapolis Boxing and Wrestling Club. In 1952, he sold a one third interest in the promotion to his son Dennis and Wally Karbo. Stecher died on October 9, 1954 and control of the promotion passed to Karbo and Dennis. Verne Gagne, a former amateur wrestling champion, had become a well known and popular wrestler nationally in the 1950s as a result of his appearances on the DuMont Television Network. He aspired to become NWA World Champion, but for various reasons to do with politics inside the NWA, he never became champion. In 1959, Dennis Stecher sold his majority stake in the Minneapolis Boxing and Wrestling Club to Karbo and Gagne. They became co-owners of the promotion from that point onward. 
Breaking from the NWA
In 1960, after unsuccessfully lobbying the NWA for a title match between Gagne and the NWA World Champion Pat O' Connor, Gagne and Karbo led certain territories out of the NWA forming the AWA. The AWA unilaterally recognized NWA World Champion Pat O'Connor as AWA World Champion and gave him 90 days to defend the AWA title against Gagne. The NWA ignored the challenge. O'Connor was stripped of the AWA title and it was awarded to Gagne on August 16, 1960. While O'Connor was considered the first AWA Champion, he never wrestled in the AWA until later in the 1960s (when he teamed with Wilbur Snyder to win the AWA World Tag Team Championship). Gagne was a former amateur-wrestling champion who had earned a spot on the U.S. team at the 1948 Summer Olympics; he ran the AWA with a traditionalist sensibility, firmly believing that sound technical wrestling—not flashy "sports entertainment"—should be the basis of a pro-wrestling company. Starting in the 1970s, Gagne trained his newcomer wrestlers from his farm in Chanhassen, Minnesota. 
Expanding the territory
Under Gagne and Karbo, the AWA became one of the most successful and expansive single territories in the country, promoting shows in such major cities as Minneapolis, Milwaukee, Chicago, Omaha, Winnipeg, Denver, Salt Lake City, Las Vegas Valley, San Francisco, Phoenix and throughout the Midwest region. Relationships were also developed with existing promotions in Houston, Memphis and San Antonio. Gagne's westward expansion into traditional NWA territories was made possible due to relationships and business partnerships he had forged for decades—more the result of other promoters struggling to survive rather than by purchase or hostile takeover by Gagne. 
Nick Bockwinkel vs. Hulk Hogan
After Gagne's retirement in 1981, he focused the promotion on Nick Bockwinkel, a loyal employee of several years who was a mat-wrestling technician like Gagne had been. Bockwinkel faced numerous challengers for the title during the early 1980s including eventual champions Rick Martel and Otto Wanz, former champion Mad Dog Vachon, and perennial contenders Wahoo McDaniel, and Brad Rheingans, but perhaps his most famous opponent would be Hulk Hogan. Starting in 1982 and accelerated by a role in the hit film Rocky III, Hogan rapidly caught on as a babyface with AWA fans, and became the AWA's top draw. But even as his popularity grew to unprecedented levels, Gagne refused to make him the AWA World Heavyweight Champion, as Hogan was a powerhouse wrestler. He recognized Hogan's showmanship and charisma and was well aware of his potential drawing power, but still believed a wrestling company should be built around one of its best technical wrestlers (e.g., himself and Bockwinkel), Gagne denied bias against Hogan and defended his actions by reasoning that he believed that Hogan's pursuit of the title was the draw for the audience and that "we really didn't need him to be champion". On two occasions, Gagne went so far as to tease AWA title wins for Hogan, only to return the title to Bockwinkel via technicalities. The first was on April 18, 1982. Hogan defeated Bockwinkel with the help of a foreign object that Bockwinkel's manager Bobby Heenan had interjected into the match. After the three count the belt was awarded to Hogan and he was announced as the new champion. Heenan informed the referee of the object and the ref questioned Hogan about this, but the blood on Hogan's face was evidence that the object had also been used on him. The ref stood by his decision and Hogan left the arena as the new AWA World champion. Six days later on AWA television, AWA President Stanley Blackburn stripped Hogan of the title and returned it to Bockwinkel. The second such occasion was on a "Super Sunday" card in St. Paul, Minnesota in 1983. Hogan again pinned Bockwinkel, was awarded the belt and announced as the new champion. This time Blackburn came to the ring moments after the match and tried to have Hogan retroactively disqualified for throwing the champion over the top rope a few minutes before the pinfall occurred. However this match had been booked as a no disqualification match, which prevented this, so Blackburn simply stripped Hogan of the title and once again handed it back to Bockwinkel. The crowd (which had exploded in cheers when Hogan appeared to have won) almost rioted when learning that Hogan was once again cheated out of the title, and later had to do damage control with the rabid crowd, telling the audience to calm down afterwards as well. Hogan attacked Bockwinkel and his manager Bobby Heenan. On the DVD The Spectacular Legacy of the AWA, it was revealed that Verne Gagne planned to have Hogan win the belt that night, but only if he would give Gagne the bulk of the revenues that Hogan was earning from merchandise and his periodic main-event performances in New Japan Pro Wrestling. Outraged at being strongarmed, Hogan refused, but nonetheless offered a 50/50 split instead. Gagne refused, and kept the belt from him. 
Talent jumps to the WWF
As Vince McMahon and his northeastern-based World Wrestling Federation (WWF) attempted to end pro wrestling's regional era in the mid-1980s (by establishing the WWF as a national promotion), Gagne made several decisions that caused his AWA to lose momentum in the emerging wrestling promotion war, including overemphasizing his son Greg Gagne in AWA storylines (which led to speculation of nepotism by Verne within the company) and failing to make Hulk Hogan the focus of his company when he had the chance. Frustrated by Verne Gagne's business decisions, Hogan accepted an offer from rival promoter McMahon to wrestle for the WWF, in December 1983. One month later, Hogan became the World Heavyweight champion. He and the WWF soon became a mainstream media phenomenon and virtually synonymous with professional wrestling in much of the national consciousness, vaulting past the AWA and NWA as the premier promotion in wrestling. Hogan wasn't alone in leaving the AWA. Some of the AWA's other top talent, including announcer "Mean" Gene Okerlund, manager Bobby "The Brain" Heenan, and wrestlers Adrian Adonis, Ken Patera, Jim Brunzel, David Schultz, Wendi Richter and Jesse Ventura, also jumped to the WWF. As the AWA required talent to place a six-week notice upon leaving the company for booking and syndication-based reasons, most of the talent reportedly told Gagne that McMahon offered them more money to not work out their notices and previously-scheduled appearance dates, which has been disputed by McMahon today. Of the talent to leave AWA for the WWF in this time, only Heenan worked out his notice in good faith to the Gagne family. The sting of the WWF expansion was not shouldered by the AWA alone. The Mid-Atlantic, Georgia, and Florida territories of the NWA also lost top stars "Rowdy" Roddy Piper, Greg "The Hammer" Valentine, Jack Brisco, Jerry Brisco, Ricky "The Dragon" Steamboat, "Cowboy" Bob Orton, Barry Windham, and Mike Rotundo to the WWF during that same time.  
International Working Relations
Abroad, the AWA is the one of the few American promotions that have maintained good and working relations with foreign companies. AWA has been working with the two main Japanese promotions; New Japan Pro Wrestling (NJPW) and All Japan Pro Wrestling (AJPW). Along with Japan they also work with Mexico's largest promotion Consejo Mundial de Lucha Libre. As they were able to avoid the ire of that company back in the 90s.
Supercards
SuperSunday
Main article: AWA SuperSunday
WrestleRock 86
Main article: WrestleRock 86
SuperClash
Main article: SuperClash
Pay-Per-Views
Championships
| Championship | Current Champion(s) | Reign | Date Won | Days Held | Location | Notes |
| --- | --- | --- | --- | --- | --- | --- |
| AWA World Heavyweight Championship | Brock Lesnar | 5 | September 9, 2013 | 564 days | Minneapolis Minnesota | Defeated Austin Aires (c) and Shelton Benjamin in a Triple Threat at SuperClash |
| AWA World Light Heavyweight Championship | Alex Shelley | 2 | November 16, 2014 | 139 Days | Milwaukee, Wisonsin | Defeated Chris Sabin |
| AWA United States Heavyweight Championship | Prince Devitt | 1 | May 11, 2014 | 328 Days | Osaka, Japan | First time an AWA title was defended in Japan; Devit defeated Jake Hager |
| AWA World Tag Team Championship | 4Ever Hooligans (Rockey Romero & Alex Koslov) | 3 | December 7, 2014 | 118 Days | Kansas City, MO | Defeated International Airstike and the Major Brothers (c) |
Current Roster
Folly of a Titan

Made by

LightningLynx89

Major Companies

♦ National Wrestling Association ♦ Jim Crockett Promotions ♦ World Class Championship Wrestling ♦ Calgary Stampede ♦ Eastern Championship Wrestling ♦ Hollywood Championship Wrestling ♦ Titan Pro Wrestling ♦ American Wrestling Association ♦ New Japan Pro Wrestling ♦ All Japan Pro Wrestling ♦ Consejo Mundial de Lucha Libre ♦ NWA Territories

Titles
Important Wrestlers

♦ Ric Flair ♦ Sting ♦ Bret Hart ♦ Ricky Steamboat ♦ Shawn Michaels ♦ Steve Austin ♦ Chris Benoit ♦ CM Punk
Ad blocker interference detected!
Wikia is a free-to-use site that makes money from advertising. We have a modified experience for viewers using ad blockers

Wikia is not accessible if you've made further modifications. Remove the custom ad blocker rule(s) and the page will load as expected.