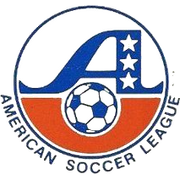 This article is about the American Soccer League that was operative from 1933 to 1959. For the league formed in 1921, see American Soccer League (1921-33)
The American Soccer League is the name given to two separate soccer leagues in the United States and Canada, the first running between 1921 to 1933, and the second created soon after the collapse of the first on a smaller budget.
History
The first American Soccer League collapsed due to financial problems in early 1933, and the second was formed in late 1933 on a smaller budget than the original. The league was mainly confined to the Northeastern United States, with some overlap with the rival North American Soccer Football League. In comparison with the NASFL, the ASL was largely composed of teams formed by immigrant communities, in particular those of Scots, Irish, English, Welsh, Italian and German origin.
In 1959 the NASFL was undergoing financial difficulties, and after some negotiations the two leagues agreed to merge, forming the North American Football League.
Results
Ad blocker interference detected!
Wikia is a free-to-use site that makes money from advertising. We have a modified experience for viewers using ad blockers

Wikia is not accessible if you've made further modifications. Remove the custom ad blocker rule(s) and the page will load as expected.