This page is to see how the lives of famous people in OTL could have been different in this Alternative History. Of course, it assumes that some people exist, even when it is very probable that they would not. People are listed in alphabetical order by their last name.
A
Jennifer Aniston
John Aniston
Yanis Anastasakis (born 1933) was a politician from the State of Crete, who served as it's Premier Minister, and then as it's President. Yanis (whose name is commonly anglicised to John Aniston) was born in Chania on the island of Crete on the 4th of July, 1933. Despite his humble origins, Yannis was determined to become successful. He achieved well in school, and attended university, graduating with a bachelor's degree in economics. He entered politics, and in 1956 joined the New Progressive Party. Through heavy campaigning, Yannis was elected to represent his local seat in the Cretan Parliament that same year. He enjoyed popularity from the electorate, as well as within his own party, and by 1964, he was deputy leader of the opposition. The timely death of the Party's leader in 1966, just months before the election campaign was due to start, meant that Yanis was the leading face of the New Progressive Party. After the election provided no clear winner, Yanis was able to negotiate an alliance with the Agricultural Party which win his party control, and him the Premiership. His party remained in control for over two decades, during which time Yanis' sound economic strategies helped Crete's economy to grow. Yanis retired in 1987, and his Party's hold on power went soon after his retirement. He took up politics again in 1995, nominating himself for that ear's Presidential election. He wn that election by a landslide, and went on to win the next election in 2001. Aether the end of his second term in 2007, Yanis went into full retirement, rarely appearing in public except to support his daughter, Jennifer Anastasakis, who followed him into a career in politics.
B
Brian Blessed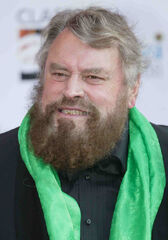 Brian Blessed (born 9th October 1936) is a famous Scottish politician. He was born to a miner, William Blessed,and his wife, Hilda Blessed, in Mexborough, Yorkshire, in the Kingdom of Scotland. He attended the Mexborough Ecole Publique, but after his father died in an industrial accident, he had to drop out of school, working a variety of jobs to support his mother and siblings. When he turned 17, Blessed, like all boys in Scotland during the regime of the Colonels, had to do National Service. Blessed was placed in the Royal Yorkshire Parachuting Regiment. After his eighteen month national service was over, Blessed opted to remain in the army. He was promoted to Sergeant aged 21. In 1959, the Scottish Oil Rig Workers Union (SORW) staged a strike which threatened to seriously cripple Scotland's burgeoning petroleum export industry. The ruling junta of Colonels, realising that their grip on power would be shaky without the income from petroleum exports, ordered soldiers to break the strike and return the mines to operation; with force if necessary. The Royal Yorkshire Parachutist Regiment was dispatched to deal with the strikers. Blessed fought the protestors with distinction, yet was personally disgusted by being ordered to shoot at unarmed civilians. His subsequent promotion to Lieutenant did nothing to stop his feelings of hatred towards the Regime of the Colonels and their iron grip on power. He fell in with a group of fellow discontented officers who plotted to overthrow the Colonels and restore a elected civilian government. Despite his low rank and humble origins, Blessed's imposing figure and booming voice quickly propelled him into leadership of the rebel group. In 1973, Blessed met with the King in secret, hoping that he would throw his weight behind the counter-coup. The king agreed, and on the 24th of March, 1973, Blessed and his allies staged their coup. After a few skirmishes, forces loyal to the Colonels surremdered, and with the help of the pro-Royalist Navy, the Colonels were overthrown. Once democracy had been restored, Blessed retired from the army and went into politics. He founded the Scottish Labor Party, which came into power in the second national elections in 1976, making Blessed the second Prime Minister since the Restoration. His "king-sized" voice and demeaner, combined with his quick wit and role in the restoration made him immensely popular amongst the common people. His government's policies encouraging the North Sea Oil industry and improving the Social Welfare system won the Labor Party four consecutive terms in government. Blessed retired from politics in 1988. During his retirement, he went on many expeditions, including climbing Mont Blanc and Mount Killimanjaro, trekking to the North Magnetic Pole, and numerous expeditions in the Congo. In 2000, he started his own talk show, "The Blessed", which has the honour of having hosted every single Prime Minister and Opposition Leader since it began airing.
Charles Bonaparte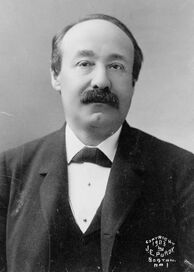 Charles Bonaparte (1851-1921) was the twenty-fifth President of the
United States
, holding office for three terms from 1901-1913. Bonaparte was born in Baltimore, Maryland on the 9th of June, 1851; the second son of Jerome Napoleon Bonaparte and his wife Susan May, nee Williams. His father was the son of King Jerome of Westphalia and his forst wife, the American Elizabeth Patterson, and as such, Charles was second cousin to the then
French Emperor
, Maximillian. When Charles turned three, the new Emperor, Napoleon III, recognised his American cousins and granted Jerome Napoleon the honorary title of "Duc de Baltimore" -and the substantial annual pension which came with the title- with the consent of the US Congress.
Bonaparte was a talented student, and when he finished school he attended Harvard Law School in Cambrige Massachusets. He graduated with honours and was called to the Bar before he left the US in order to do his Masters degree in France. Bonaparte was greeted warmly by his Imperial French relatives, and he struck up a close friendship with his half-cousin Victor Napoleon. He returned to Baltimore in 1870 to attend his father's funeral. With his inheritance, Charles started up a legal practice and began involving himself in municipal reform movements. His wealth, family connexions, and highly-regarded legal knowledge enabled Bonaparte to rise to prominence within the Reform League of Baltimore. Charles returned briefly to France in 1880 to attend to attend the coronation of his friend and half-cousin, Napoleon V. Charles married his sweetheart Susanne the following year, and the pair were soon joined by their first son Adam. In 1895, Bonaparte ran for Mayor of Baltimore on a Reform ticket, narrowly beating the Democrat candidate. He held the position for four years and his administration managed to make considerable reforms to the running of the municipality. He retired in 1899 in order to run for the Republican nomination for the Presidency. Using his wealth, popularity base in Baltimore, allies in the Reform League and his family connexions, Bonaparte was able to gain the Republican nomination. As his running partner, he chose a relatively unknown New York police commissioner, Theodore Roosevelt. The 1901 campaign was dominated by Bonaparte's Catholic faith, with many Americans, especially in the South, unsure of where the allegiences of a Catholic president would lie; especially one with such close connexions to the French Imperial family. However, these very factors ensured his popularity in the states with large French-speaking populations: Saint Lawrence, Quebec, Nova Scotia and Louisianna; while his reform-based agenda managed to win over the New England states, and many of the swing states in the West. Charles' three-term presidency was marked by great reforms in industrial and race relations. He was noted for his concern for the rights of minorities in the US, especially Afro-Americans and women. Bonaparte passed many laws enforcing black enfranchisement in the Southern states, where state laws managed to put up barriers to coloured people voting. In 1909, through strong personal appeals to the House of Representatives and the Senate, Bonaparte was able to pass a constitutional amendment granting woman equal suffrage rights to men. It was also during Bonaparte's term in office that the so-called "Special Relationship" between France and the United States is considered to have begun. Relations between the two allies had been close since the War of Independence, but the close personal relationship between President Charles and his half-cousin Emperor Napoleon V enabled a very close military and economic bond to grow between across the Atlantic. 
Bonaparte stepped down from the presidency at the end of his third term and lived a fairly quiet retirement with his wife. Charles Bonaparte died on the 12th of June, 1921. He was honoured with a state funeral attended by thousands of mourning supporters. Among the eulogizers were Maud Humphrey, a prominent suffragette; Samuel Douglass, the first black senator; and Emperor Napoleon V, his friend and ally. 
Jack Brabham
Donald Bradman
Donald "The Don" Bradman ONSW (1908-2001), was a famous New South Welsh army officer, who served with
distinction during the Asia-Pacific War. He was born on the 27th of August, 1908, in the Western bordertown of Cootamundra. His family relocated to the Southern Highlands town of Bowral two and a half years later. He was a talented boy, achieving highly in school, but also showing some skill for cricket. After graduating from High School in 1925, and moved to Sydney to study at the Duntroon Military College. He graduated from there in '28, and was posted as an Ensign in the Southern Highlands Regiment. He quickly rose through the ranks, becoming a Major by the start of the Asia-Pacific War. During this time, Bradman married Jessie Menzies, who he had known since their childhood. With the start of the Asia-Pacific War in 1943, Bradman was called up for overseas service. He was given an immediate promotion of Colonel, and was put in command of the 5th New South Welsh Battalion, stationed in the Dutch Republic of the East Indies. When Sino-Japanese forces invaded New Guinea in 1946, Bradman led his battalion into the highland mountain ranges, where they were safe from the Sino-Japanese. Fron his mountain base, Col. Bradman personally led many daring attacks on the invaders. His battalion led the 1947 counterattack, and he personally accepted the surrender of the Sino-Japanese forces remaining in New Guinea in 1948, once the main body had retreated off the island. After the war, Bradman retired from military service. In 1950, he was awarded the Order of New South Wales. He ran for Mayor of the Bowral Shire in 1957, and won with a large majority. he retired as mayor a decade later. Bradman spent the remainder of his life as a patron of sport. He revisited the cricket of his youth, and became a regular at the Sydney Cricket Ground. He died in 2001, and his frequented stand at the SCG was named in his memory.
C
D
Charles Dickens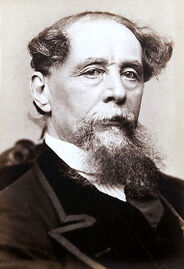 Charles John Huffam Dickens (7 February 1812-9 June 1870) was a famous social campaigner and politician during the Nineteenth Century. He worked tirelessly for a better life for the poor and working classes of Angelterre Francais; and the French Empire as a whole.
Dickens was born on the 7th of February 1812 at Landsea in Portsea to John and Elizabeth Dickens. With the French invasion in 1813, Charles' father, a Naval Office Clerk, signed up to the Portsmouth Militia regiment and died in the battle of Portsmouth. Now a widow, Elizabeth Dickens, Charles and his elder sister Frances went to live in Cambden Town with Elizabeth Roylance, "a reduced old lady, long known to our family". Charles attended the Camden ecole populaire from six years of age. However, in late 1817, a change in the Dickens' financial situation meant Charles had to give up school and work in a boot polish factory. He worked there for just over a year, under appalling conditions, and earning a pitiful 6 shillings a week. By sheer coincidence, Charles' paternal great-grandmother died in late 1818, leaving him the sum of 450 pounds. Charles was able to finish his education, and obtained a degree at Law.
Charles joined the Williams & Assc. law firm in 1830, and made a career out of representing the poor in legal cases. Six years later, Charles wrote his first pamphlet; Hard Times, which urged politicians and the rich to help better the standard of living for the poorer aspects of society. His eloquent writing style and use of humour gave him some popularity amongst his readership. He began writing columns for the London Gazette of a socialist bent, shedding light on the poor conditions faced by poor workers and their families.
Riding on much popular support, in 1842 Charles ran for the seat of North London in the Corps Legistlative. As a MP, Charles was able to petition for better living conditions for the lower classes, including the passing of the Loi sur l'Eau, mandating running water in every residence. He also successfully campaigned for the legalisation of trade unions. However, Charles' most famous deed was his introduction of the Bill on Child Workers (1857), the passing of which outlawed children under the age of twelve from work.
Charles retired from politics in 1850. Charles continued to write columns for the Gazette through the autocratic reign of Napoleon III , although his often scathing remarks resulted in his being jailed twice. Charles died in 1870, after a stroke left him in a coma from which he did not recover.
E
F
G
H
I
J
K
L
M
N
O
P
Henry Parkes
Henry Parkes, (1815-1896) was a famous landscape artist and Pan-Australian. Parkes was born in Canley,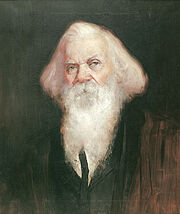 Southern Scotland. Not much is known about his early life, although he once hinted at having done manual labor. He immigrated to Van Diemen's Land with his wife in 1839, after the death of their two children. After a year of manual labour in the forests, Parkes got a job as a Customs Officer in the Hobart Docks. With his new, steady job with the government, Parkes was able to settle down in Hobart. It was at about this time, 1841, that Parkes bought his first set of paints and brushes and began to paint. Parkes, who had no secondary schooling, let alone artistic training, was an immediate master. His first paintings, of Docks, were an instant success with Hobart's elite. He began portraiture later that year, earning enough money by 1845 to take six months off work and tour Australia.
It was during this tour that parkes began painting his famous landscapes. He managed to knock out three great paintings during the trip, and auctioned them on his return to Hobart at a massive price. With a comfortable life as a painter ahead of him, Parkes retired from his position in the Customs, and became a full-time artist. He toured various parts of the continent, from Bonaparte to Hobart to Sydney to New Lodz, churning out magnificent landscapes wherever he went. This incessant travelling gave Parkes a strong feeling of, what he described as "Pan-Australianism". He felt that all people on the continent, regardless of country, had many things in common: a strong bond with nature, mateship, loyalty and pride. He expressed his feelings in his famous "Tenterfield Address", where he spoke of his beliefs to guests at a charity art auction. His ideals, manifested as the "Pan-Australia Movement" began to gain widespeade support throughout the continent.
Parkes died in 1896, at the grand old age of ninety. His legacy lives on through his art, now as well-known to "Australians" as da Vinci. His movement attracted much attention both before and after is death. It spawned the Pan-Australian Artistic Movement, which flourished from 1870-1911, and focussed on the Australian landscape. The political movement to unite the continent gained some attention in the first decade of the 20th century, but the Polish War (1911-1915) caused irreparable damage to the cause.
Q
R
S
T
U
V
W
X
Y
Z
Ad blocker interference detected!
Wikia is a free-to-use site that makes money from advertising. We have a modified experience for viewers using ad blockers

Wikia is not accessible if you've made further modifications. Remove the custom ad blocker rule(s) and the page will load as expected.