THIS PAGE IS UNDERGOING SOME BIG EDITS BY SWVman SO PLEASE NO MORE EDITS WHILE I AM EDITING.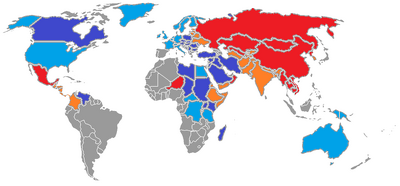 How it happened (summary)
IN ORDER OF EVENTS:
Europe:
The Nazi party is NOT elected in Germany. Instead, another party is, and Germany makes an alliance with the British Empire and the Americans.
Russia's leader is poisoned when the USA and Russia's leaders are having a meeting. The Russian government suspects that the Americans poisoned their leader to weaken their country, and starts to deploy troops to their borders.
Asia:
China becomes angry at Great Britain and the USA, as their request for food during a 2 month famine goes unreplied.
North Korea's government makes an alliance with Russia and China, then go on to invade South Korea.
South Korea asks the British Empire for help.
America:
Mexico is taken over by a dictator who instantly makes an alliance with Russia and China. Mexico's forces then invade South America.
Asia:
North Korea conquers South Korea just as British troops arrive.
China sends 50,000 troops to South Korea to defend the new Russian-Chinese-Korean terretory from the British.
Europe:
Russia declares war on America after finding evidence that an American terrorist killed their leader.
Britain also joins the War after a declaration of war against the North Koreans.
Asia:
The Chinese with Russian help quickly capture India and the surrounding nations. They then go on to conquer south Arabic states to prepair for an invasion of British colonys in Africa.
Europe:
The British's new ally, the Germans, send 5000 troops to Sweden to bolster defences their. They quickly conscribe more troops thanks to the British and Americans lifting the ban on how many troops they can have
America:
South Americans star to mass near newly captured Mexican territory to counter-attack.
The North American Army attacks the new Mexican Kingdom's northern border.

Africa:
Russian and Chinese troops invade eastern Africa. British and French garrisons manage to hold them back from striking to deep into Africa.

A Central African country joins the Russian Alliance and attacks the British.
Combatants
Russian Alliance -

British-American Alliance -
Kingdom of Mexico -

Ad blocker interference detected!
Wikia is a free-to-use site that makes money from advertising. We have a modified experience for viewers using ad blockers

Wikia is not accessible if you've made further modifications. Remove the custom ad blocker rule(s) and the page will load as expected.