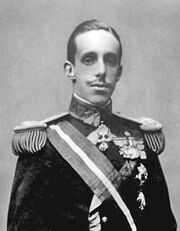 Alphonse was King of France (as Alphonse II) and of Spain (as Alphonse XIII, Spanish: Alfonso XIII).
He was born on 17 May 1886 in Madrid, son of King Alphonse XII of Spain (who died before his birth) and his wife Archduchess Mary Christina of Austria. He was proclaimed King of Spain at his birth, and was King of Spain for his entire life.
He became King of France upon the death of Alphonse I on 29 September 1936. He moved to the Palace of Versailles after becoming King of France, and died there 28 February 1941.
He married on 31 May 1906 to Princess Victoria Eugenie of Battenberg (1887-1969), daughter of Prince Henry of Battenberg and his wife Princess Beatrice of Great Britain and Ireland, daughter of Prince consort Albert and Queen and Empress Victoria, having the following issue:
Alphonse (1907-1938)
James (1908-1975), who succeeded his father as King James II & I.
Beatrice (1909-2002)
Ferdinand (stillborn 1910)
Mary (1911-1996)
John (1913-1993)
Gonzalo (1914-1934)