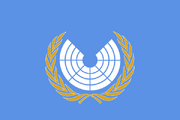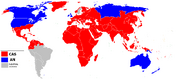 The Allied Nations are an international body representing most of the democratic nations of Earth. The AN serves as a counterweight to the global influence of the Axis-dominated Coalition of Axis States while also giving democratic states a forum to express themselves and arrange treaties in an official setting. Currently the AN's members include:
Security Council
Members

While not granted full membership, myriad governments-in-exile are also represented at the AN. These include but are not limited to:
Free France
Republic of China
Kingdom of Ethiopia
Republic of Cuba
Kingdom of Poland
Republic of Greece
Ad blocker interference detected!
Wikia is a free-to-use site that makes money from advertising. We have a modified experience for viewers using ad blockers

Wikia is not accessible if you've made further modifications. Remove the custom ad blocker rule(s) and the page will load as expected.