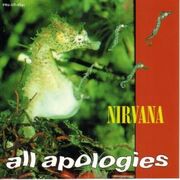 All Apologies
All Apologies was the title of a 1995 album by the rock band Nirvana.The song saw the band move to a quiet, subdued Beatles-influenced sound unlike the bands previous attempt in Curmedgeon of a primarily punk rock appeal. This change in direction was a disaster for the band due to it being released at the same time as Mother Love Bones seminal third album Love My Darling having been released the same month.The album failed to chart apart from Britain and America the latter of which the band had enjoyed a cult following from the late 1980's and college rock circles.
Recording
The album was recorded at Music Source Studios in early April 1994. It was finished in May 1994 during which time the band had embarked on a new tour of Britain.
Reception
The reception was positive.Rolling Stone Magazine commented that "the band has reached where it should be at, producing quiet, emotional songs that appeals to the rather more sophisticated Indie crowd that the band better appeals to rather than the false attempt in their previous album of having tried to branch out to metalheads.The band sticks true to itself and in particular All Apologies is a great gem of a song which has received little attention in the charts though it deserves it.It is obviously influenced by the Beatles but with a modern twist of dissilusionment which has been rather missing from popular records so far in the nineties" NME Magazine similarly said that "it is a shame that this band will most likely be relegated to the slums of the musical establishment for this album is excellent.It is particularly daring in its choice of covers and for its departure away from the rather Mother Love Bone esque 70s reviivalism which has currently been hugely popular so far in this decade.All Apologies and Old Age are both fantastic songs, one influenced by the Beatles who due to this revivilst spirit have been forgotten by many teenagers as well as the other influenced by REM who in recent years have slipped from musical headlines despite a great cult following"
Track Listing
1.Old Age 2.Clean Up Before She Comes 3.They Hung Him On A Cross 4.Lake Of Fire 5.Plateau 6.Polly 7-Do Re Mi 8-All Apologies 9-Something In The Way 10-Jesus Don't Want Me For A Sunbeam 11-Where Did You Sleep Last Night 12-The Man Who Sold The World 13-Sad
Personnel
Kurt Cobain-Lead Vocals,Guitar
Krist Novoselic-Bass
Chad Channing-Drums
Singles
All Apologies-9th March 1995
The Man Who Sold The World-22nd May 1995
Where Did You Sleep Last Night-6th June 1995
Chart
UK Album Chart-60
US Billboard 200-110
Ad blocker interference detected!
Wikia is a free-to-use site that makes money from advertising. We have a modified experience for viewers using ad blockers

Wikia is not accessible if you've made further modifications. Remove the custom ad blocker rule(s) and the page will load as expected.