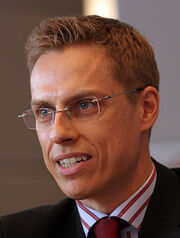 Alexander (Cai-Göran Alexander) Stubb, born 1 April 1968 in Helsingfors, Helsingfors County, Finland (Sweden), is a Finnish conservative politician.
He is the chairman of the National Conservative Party's Helsingfors County district, and he is a member of the house of commoners. Stubb is fluent in Swedish and Finnish, and also speaks English, French and German. His roots are in Esse, Vasa County and Viborg, Viborg County.
He has written several books on the topic of political institutions in Europe, and also one about marathon running. He is married to the English lawyer Suzanne Innes-Stubb, with whom he has two children. Stubb lives with his family in Esbo, Helsingfors County.