Alexander IV ( Ἀλέξανδρος Δ'; 323 BC-307 BC) was the king of Macedon from 311 BC until his death in 307 BC. He is the heir to all of Alexander the Great's holdings and possessions. Unlike his father, whose rule was marked by numerous successful campaigns, Alexander IV's rule was largely defined by the various rebellions that occurred during this four-year period. Most notable was the first War of the Diadochi. When Philip III of Macedon claimed the throne and sparked a succession crisis, several states of Macedon aligned themselves with the illegitimate, feeble-minded pretender to the throne. Others revolted entirely, seeing the opportunity to strike almost immediately.
In 307, after losing almost every title aside from King of Macedon and King of Italia, Alexander IV took his own life in Pella. His death sparked decades of further bloodshed and warfare.
Early Life
Heir to the Throne
Alexander IV was born in Babylon to Roxane of Bactria and Alexander III of Macedon. During his birth, his father was in Babylon, plotting to invade Arabia from the ancient city. Before Alexander IV's first birthday, Alexander III embarked on his Arabian campaigns. During this time, Alexander IV stayed in Babylon for three years in order to prevent an early death on the way to Pella. On his fourth birthday, when his mother came to the conclusion that both she and her young son could survive the journey, they embarked on their first trip to Pella. Shortly thereafter, Alexander III arrived in the city to celebrate his victorious campaigns in Arabia and to, according to his initial plans, settle down in the city and cease his campaigns.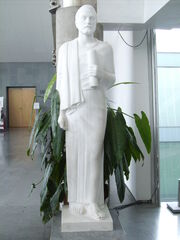 Alexander III's plans were cut short and, when Alexander IV was eight years old, Alexander III was forced to leave Pella to put down an Athenian rebellion. He prepared to invade Illyria in the following year. By 315 BC, Alexander III had left Pella once again, leaving his son in the hands of Roxana of Bactria. Before leaving, Alexander III placed his son under the tutelage of Demetrius of Phalerum, much like how Alexander III himself had been taught by the famous Aristotle under the orders of his father, Philip II. Demetrius taught Alexander IV much of the ways of philosophy, battle technique, and the arts. Demetrius was also a student of Aristotle and Alexander III trusted that Aristotle's influence had brushed off on Demetrius of Phalerum.
Unfortunately for both Alexander IV and his father, they never saw each other again after Alexander III left for Illyria in 315. After Alexander III finished conquering the Illyrian coast that did not yield to Macedon, he traveled to Italy to conquer the various civilizations on the peninsula. In 311 BC, he had conquered the Roman Republic before being assassinated by his generals later that year at his own wedding.
Ruler of Macedon
Young King
Alexander IV was coronated in Pella within a week of the death of Alexander III, assuming every title held by his father. Almost immediately, the various generals began to worry that Alexander IV was not as competent as his father and could not hold the empire together. The young king had yet to prove himself in battle and he was tutored by a philosopher that had not been as accomplished as the great Aristotle. Others feared that Alexander IV would be too much like his father and go on massive campaigns against non-Macedonian lands, running Macedonian troop levels low and having delusions of grandeur. Still, the empire remained intact and relatively problem-free for the first two years of Alexander IV's rule.
Cassander, the son of Antiphones, a great general of Alexander III, was chosen as Alexander IV's regent by a conclave of generals. This decision was debated by Roxana of Bactria, who believed that Cassander was too ambitious for his own good and could present a threat to Alexander IV. Nevertheless, the decision was accepted and the empire was effectively ruled by Cassander for two years.