Alexander Haig was born Pennsylvania in 1924, to Alexander Haig Sr. a lawyer and republican. His father died in 1935 and Haig was sent off to boarding school by his mother. In 1940 he joined Harvard law school and in 1943 he left with a degree in modern US law. Upon leaving Harvard Haig decided to join the army, and enrolled in US Military Academy at Morleigh in August 1943. After 14 months of training Haig graduated with the rank of lieutenant and served alongside General Eisenhower in Europe.
In 1945 Haig transferred to the Asian theater and served on the staff of general MacArthur. Haig was promoted rapidly, becoming a Captain (1946), Major (1947) and Lieutenant Colonel (1949). Haig became the youngest full colonel in the US army in 1953. He served in Burma as commander of an infantry assault regiment. Haig was wounded when his helicopter crashed in 1954 and was hospitalised for several weeks. He was visited by President Eisenhower during his tour of military bases and received the purple heart and distinguished service order.
Haig transferred to US headquarters in Bangkok in 1955 and became a senior staff officer. Following the 1956 Spring offensive he became chief of staff to General Taylor, with the rank of Brigadier General. Haig served at various staff positions until 1959 when he became area commander for Bangkok city district. As virtual military governor of the capital Haig wheeled great influence over the entire war. His tenure as governor was short and in June 1960 he returned to the US to serve on President Eisenhower's military advisory staff. When the Kennedy administration began he was dismissed and posted to European Command to become chief of staff to the 6th armored division. Haig personally considered this a serious demotion and an insult.
Haig remained with the 6th armored division until 1963 when he returned to the US to become aide-de-camp to army chief of staff General Taylor. In 1965 he was promoted to Brigadier General and returned to Burma as commander of the strategic planning committee working closely with the air force. By 1966 he was an outspoken war hawk, advocating the continued bombing of the subcontinent but that the war should be removed from the public view. In 1968 he became a two star general but remained in his capacity as strategic planning.
When in 1969 Barry Goldwater entered the presidency he personally selected Haig for promotion to three star general and made him deputy supreme commander in Asia. Haig became something of a favorite of Goldwater's and Goldwater tried to intervene in getting him promoted. In July 1970 Haig succeeded General Westmoreland as supreme commander in Asia as a four star general. Haig took over as the replacement of US troops with local forces was just beginning. In March 1971 whilst visiting a barracks just outside Bangkok a bomb exploded just feet away from Haig killing 53 soldiers and wounding many more, including Haig. He spent the next two months in the hospital but recovered quickly and in June was fit enough to return to active duty. In early 1972 he asked for a transfer to Europe and was made chairman of the inter-service cooperation staff. But within weeks he was transferred to the White House to become National Security Advisor.
Haig became an integral part of the day-to-day running of the White House and American foreign policy, working in conjunction with Secretary of State Kissinger. He spent much of the winter of 1972-73 travelling to and from Burma to negotiate the formal replacement and withdrawal process.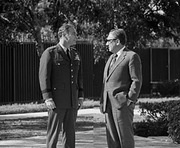 Ad blocker interference detected!
Wikia is a free-to-use site that makes money from advertising. We have a modified experience for viewers using ad blockers

Wikia is not accessible if you've made further modifications. Remove the custom ad blocker rule(s) and the page will load as expected.