Aleksandrgrad (Russ: Александрград) is the most populous port city in Alaska, the second-most popolous city in the country and an important governmental center, housing the Patriarchy of Alaska as well as the Financial Ministry. The country's stock exchange is located in Aleksandrgrad, as are numerous governmental bureaus and major Alaskan companies.
Aleksandrgrad is named in the honor of Tsar Alexander of Russia, who perished at the Battle of Petrograd in 1813. The city's main thoroughfare, Tsar Alexander Way, includes a statue of the fallen leader at its intersection with Coastal Way. Aleksandrgrad has a population of about 805,000, although it is located at the hub of the Novorossija Bay Metropolitan Zone, home to nearly 1,750,000. Aleksandrgrad is the capital of the Novorossija Oblast, which is home to just over two and a half million people.
The city, while a cultural and commercial center, especially in the coastal region, is notorious for being dangerous and grossly overpopulated, despite numerous attemtps by the federal government to clean the city up. The city's Gas-Lamp District (Gazovaya-Lampa) has the highest crime rate measured against population density in the country, and the city has the highest non-violent crime rate in North America. At one time the largest city and economic hub of the country, Aleksandrgrad began a rapid decline after the devastating 1964 Good Friday earthquake, by the end of the 1960's having lost a significant amount of its population and political influence to Interior cities such as Kialgory, Evgenigrad, Mikhailgrad and Krasnov.
Aleksandrgrad is considered one of the most conservative cities in the country, mainly due to the Alaskan Orthodox Church having its Patriarch enthroned at the Grand Cathedral of Aleksandrgrad. However, there is a northern neighborhood known as the Bohemian Quarter which, in the 1950's and 60's, produced some of Alaska's finest artists, poets, writers and liberals during the burgeoning Young Liberal movement of the era. The Bohemian Festival is an annual celebration every summer in Aleksandrgrad, often one that lends itself to drunken debauchery, crime and violence.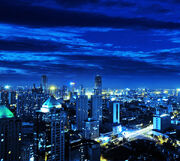 Ad blocker interference detected!
Wikia is a free-to-use site that makes money from advertising. We have a modified experience for viewers using ad blockers

Wikia is not accessible if you've made further modifications. Remove the custom ad blocker rule(s) and the page will load as expected.