The following page is under construction.

Please do not edit or alter this article in any way while this template is active. All unauthorized edits may be reverted on the admin's discretion. Propose any changes to the talk page.
Aleksandr Kerensky
Алекса́ндр Ке́ренский
Portrait of Aleksandr Kerensky.

Chairman of the Russian Provisional Government.

in office:
July 21, 1917 - November 7, 1917

Predecessor
Georgiy Lvov
Successor
None; Office abolished.

Personal Information

Born
May 2, 1881
Simbirsk, Russian Empire
Birth name
Aleksandr Feodorovich Kerensky
Nationality
Russian
Political party
Social Revolutionary
Alma mater
St Petersburg University
Profession
Lawyer
Aleksandr Feodorovich Kerensky (Алекса́ндр Фёдорович Ке́ренский) was a Russian lawyer and politician who served as chairman of the Russian Provisional Government (RPG).
After the abdication of Czar Nicholas II, Kerensky served as Minister of Justice under the first chairman, Georgiy Lvov. He became Minister of War in May before succeeding Lvov. On November 7, 1917, his government was overthrown by the Bolshevik Party.
Early Years
Kerensky was born in Simbirsk on May 2, 1881. Feodor, his father, was a high school principal.
Kerensky graduated from high school with honors and enrolled in St Petersburg University. Originally a history student, he changed majors to law and earned his degree in 1904.
Career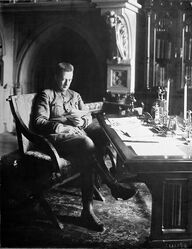 After the Revolution of 1905, he contributed to the Social Revolutionary newspaper Burevestnik (Thunderbird). The paper was shut down and Kerensky was imprisoned until April 1906.
After getting out of jail, he returned to St Petersburg and became a popular lawyer. In 1912, he was elected as a deputy to the Duma and strove for a democratic renewal of Russia.
When the czar abdicated and the Provisional Government was set up , Kerensky rejoined the Social Revolutionaries and became Minister of Justice. After the botched Bolshevik uprising known as the July Days, Georgiy Lvov stepped down as prime minister and gave the office to Kerensky.
In August, General Lavr Kornilov attempted to overthrow Kerensky and create a military dictatorship. Kerensky, desperate for allies, released Bolsheviks captured during the July Days uprising and armed them. Kornilov's revolt never got far.
Popular support for the Bolsheviks continued to grow. On the morning of November 6, Kerensky fled St Petersburg (now renamed Petrograd after the outbreak of the Great War) in a car from the American embassy. By the following morning, the RPG had been deposed by Lenin.
Shortly after his overthrow, Kerensky attempted a counterattack against the Bolsheviks with the aid of loyal troops. However, he failed and went into exile in France.