Speer was born in Mannheim in 1905 to a wealthy middle class family. In 1918 the family moved to Heidlberg, where in 1923 Speer attended university. He studied engineering and mathematics, and in 1928 he graduated with honors.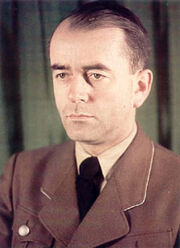 He soon made his name as an architect and designed homes for the finest German stars. Among those he built for was the rising politician Adolf Hitler. The two became good friends and in 1931 Speer joined Hitler's NVP.
At Hitler's request Speer left his career and got a job with the Bavarian state government, by 1933 he had become head of the construction committee. When Hitler came to power in 1934 Speer was elevated to the national stage, becoming minister for construction. He oversaw the vast German industrial expansion and numerous construction projects all over Germany.
When war broke out he remained in his position, despite requests by Hitler to take on a more important cabinet position. Speer soon began the vast logistical task of managing most of German industry, in cooperation with Industry minister Fritz Todt.
When the war came to an end Speer was in a very influential position. Using his power to oversee the surrender of all German non-military forces. In July 1946 he became head of state and government of Germany, and oversaw the beginnings of its postwar recovery. He spectacularly rebuilt Berlin, increasing employment.
In 1947 he formed the Union auf Deutches Volken party, and won the 1947 election. He continued until 1949 when the Christian Conservatives, the junior party in Speer's coalition, threatened to pull out of government unless they played a more active role.
Speer spent the remainder of his life writing and supporting his UDV party, until it merged in 1975 to form the CDU. He remained a strong supporter of german conservatism until his death in 1981.
Ad blocker interference detected!
Wikia is a free-to-use site that makes money from advertising. We have a modified experience for viewers using ad blockers

Wikia is not accessible if you've made further modifications. Remove the custom ad blocker rule(s) and the page will load as expected.