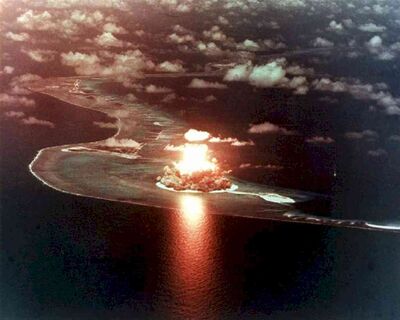 Air Nauru Flight 219 was a scheduled passenger flight of Air Nauru from Nauru International Airport to Kiribati Airport on January 1, 2000, that crashed on the coast of Kiribati after its systems were disabled. All 152 passengers and 12 crew on board the Boeing 737, died after the plane crashed on the beach of Kiribati.
This incident is most famous for showing the moment that the capital of Kiribati was wiped off the face of the planet, with a short revolutionary war ensuing three weeks later, culminating in the brutal murder of President Teburoro Tito.
Passengers
Nauruan Air officials said that most of the passengers were Nauruan and I-Kiribatis. Passenger reports said that in addition to the Nauruan and I-Kiribati passengers, there were seven Fijians, four Tahitians, one Malaysian, and one American on board the flight. The crew included ten Nauruans, one I-Kiribati, and one Fijian. Both the pilots were Nauruan.
Sequence of Events
Air Nauru Flight 219 left the runway of Nauru International Airport, on a routine flight to Bonriki International Airport. The Nauruan Government was unaware of the effects of Y2K, due to the international information being brought to the country was very low at the time.
Almost as soon as the airplane left the runway, Y2K hit Nauru, shutting down computers and radio systems for a limited period of time. Flight 219 was forced to circle around the Pacific Ocean for more than five hours, before the pilot took it into his own hands to land at Bonriki.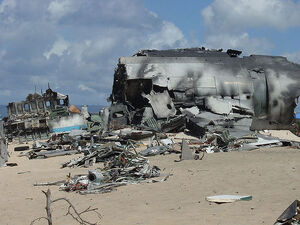 Around 5:30 AM, Nauru Time, Flight 219 came into an approach to Bonriki. Air Traffic Control had managed to reach the flight, but was not able to send a message. One of the controllers, Hammer Dowiyogo, reported hearing a loud puncturing of the wind, followed by screams. Seconds later, the sound of a nuclear explosion is heard. This was when the famous photo was taken. Loud clanking is heard as the plane is hit by the blast force.
Although Air Traffic Control connection was lost, it assumed due to the wreckage on the beach near the airport, that the plane lost control and crashed on its approach.
All of the people on the plane died in the crash, evident from the charred bodies found, some still strapped in their seats.
Ad blocker interference detected!
Wikia is a free-to-use site that makes money from advertising. We have a modified experience for viewers using ad blockers

Wikia is not accessible if you've made further modifications. Remove the custom ad blocker rule(s) and the page will load as expected.