This Map Game is a Proposal


Aftermath of Versaille (Map Game) is a proposal, which means that before signing up you should wait for approval from the Map Game Committee.
After the German defeat at the end of the first World War in 1919, the world shook as the six nations signed the treaty, fully affecting the future of Earth. The nations now stronger, weaker and others divided. The remnants of the war are in the hands of the leaders of the world.
The Map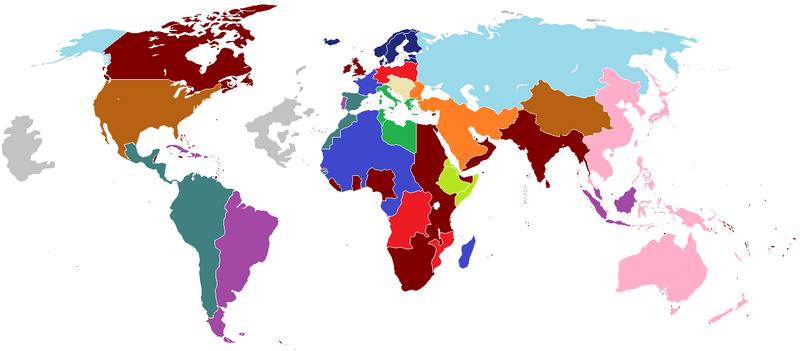 The Nations
The British Empire

The Commonwealth of India
Canada
Egyptian Commonwealth
Ireland
South Africa
British East Africa
Zimbabwe
Sudan

The French Empire

The Netherlands
Kingdom of Belgium
Madagascar
Algeria
Luxembourg

The Third Reich

Poland
Malta
Mozambique
The Congo
Bavaria
West Africa

Portuguese Empire

Costa Rica
Haiti
East Brazil
Uruguay
Argentina
Cuba
Fiji
Papa New Guinea
Dominican Republic

Spanish Empire

Kingdom of Honduras
Nicaragua
West Brazil
Bolivia
Colombia
Venezuela
Paraguay
Guatemala
Peru
Chile
Morocco
Panama

Austria-Hungarian Empire

Duchy of Montenegro
Yugoslavia
Czechoslovakia
Bulgaria

Italy

Vatican City
Sicily
Greece
Macedonia
Liberia
Albania
Algeria

Russia
The Nordic Council

Duchy of Finland
Duchy of Norway
Kingdom of Sweden
Kingdom of Denmark
Providence of Iceland

The Ottoman Empire

Kingdom of Serbia
Sudan
Cyprus
Iran
Iraq
Saudi Arabia
Romania
Persia

The Japanese Empire

Australia
New Zealand
Korean Federation
Thailand
China
Vietnam
The Philippines
Taiwan
Singapore
Malaysia

The United States of America

Mexico
Ecuador
Iberia
Puerto Rico
U.S Virgin Islands

Ethiopian Republic
Tibetan Commonwealth
Hawaii And Atlantica
THESE TWO CONTINENTS ARE LOCKED UNTIL TEN TURNS/
DO NOT SAIL/LAND THERE UNLESS YOU HAVE MY PERMISSION.
Ad blocker interference detected!
Wikia is a free-to-use site that makes money from advertising. We have a modified experience for viewers using ad blockers

Wikia is not accessible if you've made further modifications. Remove the custom ad blocker rule(s) and the page will load as expected.