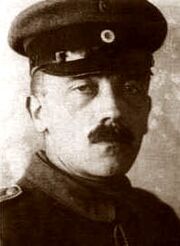 Adolf Hitler (20 April 1889 - 18 September 1918) was an Austrian artist who served as a German soldier during the First World War. He was killed by Henry Tandey shortly after the battle at Marcoing.
Early Life
Hitler was born on April 20, 1889 in the small Austro-Hungarian village of Ranshofen, which was later incorporated into the town of Braunau am Inn, the fourth of six children born to Alois and Klara Hitler. Young Adolf was sickly as a baby, and his mother fretted over him. Alois, however, showed almost no interest in raising him and left it all to Klara. As he grew up, Hitler often clashed with his father, who did not approve of his son's interest in the fine arts.
Adulthood
In 1903, his father died suddenly. Two years later, Hitler's mother allowed her son to drop out of school. At age 16, he moved to Vienna and worked as a casual laborer and a watercolor painter. He applied to the Academy of Fine Arts twice, but was rejected both times. He was forced to live in a homeless shelter for several years. It is during this time that Hitler's antisemitism first cultivated. In May 1913, he moved to Munich in Germany.
First World War
Following Archduke Franz Ferdinand's assassination and the outbreak of the First World War, Hitler applied to join the Bavarian Army despite the fact that he was still holding Austrian citizenship. It was during this time that he began to develop German nationalist ideas.
Hitler served in France and Belgium in the 16th Bavarian Reserve Regiment. He was promoted once to the rank of Gefreiter, but he was deemed to not be officer material, with very little chance of advancing any more. He was present at a number of famous battles, such as the First Battle of Ypres, the Battle of the Somme, the Battle of Arras, and the Battle of Passchendaele. At Ypres, Hitler witnessed the deaths of tens of thousands of men. His own company was reduced from 250 men to 42.
He received two awards for bravery. In 1914, he was given the somewhat common Iron Cross, Second Class. However, in 1918, he received the Iron Cross, First Class. This was rare, especially for a Gefreiter.
Death
At the end of WWI on September 28th 1918, shortly after the battle at Marcoing, Hitler was shot by Henry Tandey.
Ad blocker interference detected!
Wikia is a free-to-use site that makes money from advertising. We have a modified experience for viewers using ad blockers

Wikia is not accessible if you've made further modifications. Remove the custom ad blocker rule(s) and the page will load as expected.