Governor of Saxony
In office:

March 17, 1933 - May 17, 1940

Predecessor
Martin Mutschmann
Successor
Geli Raubal
Personal Information
Born
April 20, 1889

Braunau am Inn, Upper Austria,Great Kingdom

Died
May 17, 1948 (age 59)

Berlin, Great Kingdom

Nationality
Great Kingdom
Political party
Saxony Socialist Party
Spouse
Geli Raubal
Children
1 son, 1 daughter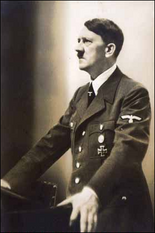 Adolf Hitler is a
Great Kingdom politician
and Governor of the state of Saxony from 1933 to 1940. He has a very infamous career for his bigotry and "Right-Wing" attitude of the Jewish population of his province. After seven years of suppressing Jewish ghettos in Saxony, he was soon forced to resign under orders of the Governor Council of Paris under facts of mental illness. He later retired to Berlin where he eventually died of Alzheimers at age 59. He was a father of two children, Kaiser Hitler, a future governor of Berlin, and Meda Hitler, a famous singer and diplomat.
Ad blocker interference detected!
Wikia is a free-to-use site that makes money from advertising. We have a modified experience for viewers using ad blockers

Wikia is not accessible if you've made further modifications. Remove the custom ad blocker rule(s) and the page will load as expected.