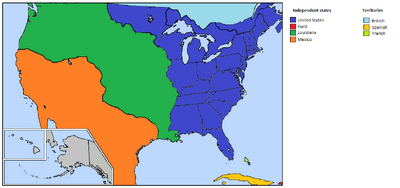 Countries
North America

Europe

Asia/Pacific
Timeline
(POD) 1797: (1 April) President John Adams dies of yellow fever in Philadelphia. Vice President Thomas Jefferson becomes third President of the United States.

US allies with the French Republic.
US declares war on Spain.

1799: Spain cedes Louisiana Territory to France in the Treaty of San Ildefonso.

US declares war on Britain.
Napoleon becomes Consul in a coup against the Directory.

1802: France and US make peace with Spain Britain; Britain cedes much of Canada and Spain cedes Florida.
1804: Napoleon becomes Emperor of France.
1806: Louisiana declares independence from French Empire.
1808: French Empire recognizes Republic of Louisiana.

The Constitution of the Republic of Louisiana comes into effect. It extends suffrage to male property holders, bans the Atlantic and Gulf slave trade, prohibits new enslavement and declares that all living slaves will be free after twelve years.
US-Louisiana Treaty establishes free use of Mississippi River by both nations and US access to New Orleans port.

1811: Beginning of the Mexican War of Independence, tacitly supported by Louisiana and US.
1820: All remaining slaves in Louisiana are freed.
1835: Britain cedes Oregon to Louisiana.
1850s: Mexican Civil War
1860: Mexico gets a liberal Constitution.
1878: Louisiana and the USA invade Cuba
1912: The Great War (1797) begins.
1919: The Great War ends.
1925: Canada becomes independent.
1927: Cuban independence as Louisiana and the USA withdraw.
Ad blocker interference detected!
Wikia is a free-to-use site that makes money from advertising. We have a modified experience for viewers using ad blockers

Wikia is not accessible if you've made further modifications. Remove the custom ad blocker rule(s) and the page will load as expected.