Abyssinia
Ethiopia
ኢትዮጵያ
Timeline: Fidem Pacis
OTL equivalent: Ethiopia, Somalia, Eritrea, Djibouti

Flag
Coat of Arms

Location of Abyssinia

Capital
(and largest city)
Zula
Other cities
Addis Ababa, Axum, Mogadishu
Language
  official
 
Amharic
  others
Oromo, Somali, Tigrinya
Religion
Islam
Demonym
Abyssinian
Government
Constitutional monarchy
Emperor
Amha Selassie II
Prime Minister
Hailemariam Desalegn
Area
1,859,557 km²
Population
107,622,078 
Established
c. 100 AD
The
Ethiopian Empire
, known primarily outside the country as
Abyssinia
so as to avoid confusion with the continent of Ethiopia, is a sovereign state located in East Africa. One of the oldest states still in existence in the world, it is the direct successor to the Axumite Empire that flourished in the region during the first millennium AD and played a key role in the early development of Islam.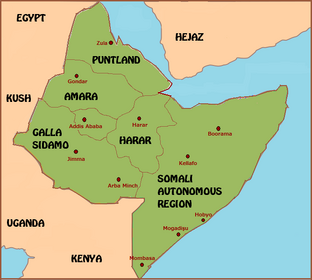 Ad blocker interference detected!
Wikia is a free-to-use site that makes money from advertising. We have a modified experience for viewers using ad blockers

Wikia is not accessible if you've made further modifications. Remove the custom ad blocker rule(s) and the page will load as expected.