During 1941, the formation of Operation Barbarossa was stalled by a renewed Allied offensive in the south, with the help of Allied partisans, who had recently overthrown Mussolini. The operation was postponed indefinitely until the invasion was resolved, which it was, thanks to the early introduction of the He 280 by the Reichsluftsfahrtministerium, which made air superiority over the comparitively primitive Allied Spitfires and Warhawks easily achieved. However, by the time the operation was scheduled to begin, in August of 1942, it was postponed again by the personal intervention of Hitler, who had made the decision to focus on attacking Britain. Operation Seelowe was reactivated, with certain changes subtly passed by Hitler's top generals and ministers, including the renewed focus on British airfields, radar stations, and other targets of strategic importance, ranging from Downing St. (Then converted into a RAF control center after the near-constant bombing raids) to the first airfields operating Frank Whittle's jet prototypes, rushed into service and jury-rigged onto old airframes barely capable of keeping up with the improvements.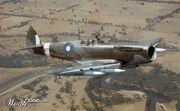 Compared to the German advances in jet technology, however, the "Whittlebirds" were rendered obsolete very quickly, and the Germans were able to gain near-complete air superiority except from occasional raids on small concentrations of German bombers. However, the resistance was pointless, as thanks to the constant bombings of their airfields, they lost more men and planes then they could take down. On June 17, 1942, the German invasion of Britain began.
AUTHOR'S NOTE: Please don't delete this. I have to leave for today, however, I will expand and finish this later on.
Ad blocker interference detected!
Wikia is a free-to-use site that makes money from advertising. We have a modified experience for viewers using ad blockers

Wikia is not accessible if you've made further modifications. Remove the custom ad blocker rule(s) and the page will load as expected.