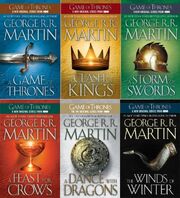 A Song of Ice and Fire
is a series of epic fantasy novels written by American novelist and screenwriter George R. R. Martin. Martin began the first volume of the series, A Game of Thrones, in 1991. It was first published in 1996. Martin gradually extended his originally intended trilogy to seven volumes, the sixth of which, The Winds of Winter, took him five years to write before its publication in 2012. He has publicly hinted that the series might be stretched to an eighth volume. Martin's work on his seventh and planned final volume,
A Dream of Spring
, is still underway.
The story of A Song of Ice and Fire takes place on the fictional continents Westeros and Essos. The point of view of each chapter in the story is a limited perspective of an assortment of characters that grows from nine, in the first, to thirty-one by the fifth novel. Three predominant stories interweave: a dynastic war among several families for control of Westeros; the rising threat of the superhuman Others beyond Westeros' northern border; and the ambition of Daenerys Targaryen, the exiled daughter of a king, to assume her ancestral throne.
A Song of Ice and Fire received favorable critique for its diverse portrayal of women and religion, and praise for favoring realism over magic. An assortment of disparate, subjective, and sometimes inaccurate points of view confront the reader, and the reader may not safely presume that a favorite character will prevail, or even survive. Violence, sexuality and moral ambiguity frequently arise among a thousand named characters.
Among the many derived works are four prequel novellas in a series and another further historical prequel, a TV series, a comic book adaptation, and several card, board, and video games.
Books
A Game of Thrones (1996)
A Clash of Kings (1998)
A Storm of Swords (2000)
A Feast for Crows (2004)
A Dance with Dragons (2007)
The Winds of Winter (2012)
Novellas and short stories
Dunk and Egg
The Hedge Knight (1998)
The Sworn Sword (2003)
The Mystery Knight (2008)
The Village Hero (2012)
The She Wolves of Winterfell (2015)
Other
The Princess and the Queen (2013)
The Rogue Prince (2014)
The World of Ice and Fire (2014)
TV show
 The greatest theme that ever was or will be. 
Ad blocker interference detected!
Wikia is a free-to-use site that makes money from advertising. We have a modified experience for viewers using ad blockers

Wikia is not accessible if you've made further modifications. Remove the custom ad blocker rule(s) and the page will load as expected.