West Florida was a nation that was founded in 1810, and only lasted for 90 days before they were annexed by the United States. Though they defeated the Spanish at Baton Rouge, they didn't win at Mobile. Even they knew that they were going to be annexed eventually. It can make one feel bad for them. Had the republic succeeeded, and created a truly independent republic, what might that be? and how would they obtain such a goal?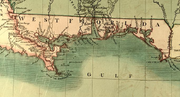 "West Floriday, that lovely nation,
'Free from king and tyranny,
'Thru' the world shall be respected,
'
For her true love of Liberty!"
Ad blocker interference detected!
Wikia is a free-to-use site that makes money from advertising. We have a modified experience for viewers using ad blockers

Wikia is not accessible if you've made further modifications. Remove the custom ad blocker rule(s) and the page will load as expected.