This Althist was created by Metalshadow455.
Plot
In OTL, 9/11 was a traumatic event involving the terrorist group Al-Qaeda, who hijacked 4 American passenger planes and crashed two of them into the Twin Towers and one into the Pentagon. The fourth one, however, was stopped by brave passengers and crashed it into a hill. This Alt History shows what could have happened. Instead of attacking America, Al-Qaeda went on an all out assault on as many strong and nearby countries as possible. The countries included: The United States, The United Kingdom, Ireland, France, Russia, Turkey, Israel, Saudi Arabia, China, Japan, and Morocco. Now there's a large war that's only been going on for 12 days, and has already claimed two-hundred-thousand lives.
Key
Green - Neutral.
Dark Blue - Directly fighting against terrorists.
Light Blue - Supporting Dark Blue countries.
Dark Red - Directly fighting alongside terrorists.
Light Red - Supporting Dark Red countries.
Players
Metalshadow455 - Sweden/Administrator (Creator)
Example - Country/Player;Moderator;Administrator
Afghanistan:Bozistanball
2001
September 25th - Sweden begins to send supplies to Russia and France, preparing the National Guardsmen and Militias. Terrorist propaganda has been spotted on social media.
September 26th - Swedish Militias and Nation Guardsmen line up along important city borders.
September 27th - A Swedish city is attacked and overtaken by terrorists. The city has been barricaded.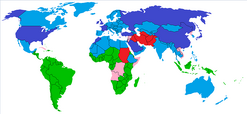 Ad blocker interference detected!
Wikia is a free-to-use site that makes money from advertising. We have a modified experience for viewers using ad blockers

Wikia is not accessible if you've made further modifications. Remove the custom ad blocker rule(s) and the page will load as expected.