This 1983: Doomsday page is a Proposal.

It has not been ratified and is therefore not yet a part of the 1983: Doomsday Timeline. You are welcome to correct errors and/or comment at the Talk Page. If you add this label to an article, please do not forget to make mention of it on the main Discussion page for the Timeline.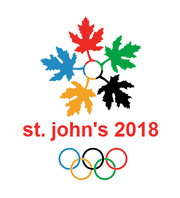 The 
2018 Winter Olympic Games
, the
St John's Olympics
, or officially known as the 
Games of the XXII Olympiad
, will be the fifth Olympic Games to take place following 
Doomsday
, and the third Winter Games, following the 
Trondheim
 and 
Zürich Games
. They will take place in
Saint John's
,
Canada
, which was selected in October of 2013 to host the games by the 
International Olympic Committee
.
History
The 2018 Winter Olympics, the 
Bids
Many cities presented bids to the IOC in order to see what city, and equally importantly what nation, would be given the honor of hosting the Winter Olympic Games. Bids were due by February 28, 2013, and St John's was chosen to host the Games on October 5, 2013.
St John's
The Canadian Olympic Committee ...
Krasnoyarsk
Even after their third try, they failed.
Sapporo
Withdrawal in 2011 after Tohoku Earthquake/Tsunami
Venues
Snow Sports - White Hills
Hockey - Memorial Stadium
Curling - Bally Haly
Torch Relay and Opening Ceremony
Participating Nations
A number of nations have expressed interest in competing in these Olympic Games. Notably, this will be the first Olympic Games to take place in North America, and the second to take place in the Americas (after the 2016 Summer Olympics in Rio de Janeiro) after Doomsday. As such, a number of expected competitors will likely come from smaller North American states.
Among the states expected to compete are:
See Also
Preceded by:
Trondheim
Winter Olympic Games
TBD
XV Olympiad (2018)
Succeeded by:
TBD
Ad blocker interference detected!
Wikia is a free-to-use site that makes money from advertising. We have a modified experience for viewers using ad blockers

Wikia is not accessible if you've made further modifications. Remove the custom ad blocker rule(s) and the page will load as expected.