Ad blocker interference detected!
Wikia is a free-to-use site that makes money from advertising. We have a modified experience for viewers using ad blockers

Wikia is not accessible if you've made further modifications. Remove the custom ad blocker rule(s) and the page will load as expected.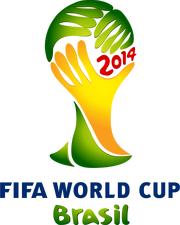 See also 2014 FIFA World Cup
The 2014 FIFA World Cup was the 20th FIFA World Cup, held 4 years after the previous World Cup in South Africa, 2010. The tournament was held in Brazil from 12 June to 13 July, Brazil having been chosen as hosts in 2007. It was the second time Brazil hosted the competition, the first time being 64 years previously at the 1950 World Cup.
Qualification
Main article 2014 FIFA World Cup Qualification
Format
The thirty-two qualifying teams were drawn into eight groups of four teams, each team playing the other teams in the group in the round-robin format of World Cup group stages, each team playing each other once. As before 3 points were awarded for a win and 1 point for a draw, with goal difference being used to decide between teams with equal points.
Squads
Main article 2014 World Cup squads

United Kingdom squad
Group stage
Group A
Main article Group A


Group B
Main article Group B


Group C
Main article Group C


Group D
---
---
---
---
---
Group E
Main article Group E


Group F
Main article Group F


Group G
Main article Group G


Group H
Main article Group H


Knockout Stage
See also 2014 World Cup Knockout Stage
---
---
Notes
The FIFA World Cup

FIFA World Cup