The 2009 Peach Bowl was the conclusion of the 2008-09 NCAA college football season, and as the host of the national championship game for said season, pitted two undefeated squads - the No. 1 Alabama Crimson Tide, victors of the two previous national championships, and No. 2 Massachusetts Minutemen, who were led by legendary coach Harrison Ford - for the national title. In a back and forth thriller, the Minutemen defeated Alabama 34-30 to deny the Tide a third consecutive national championship and earn U-Mass and Ford a fifth national championship since 1983.
2008 Regular Season
Alabama Crimson Tide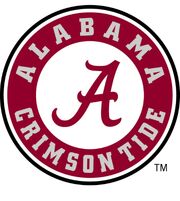 The Tide had won back-to-back national titles in 2006 and 2007, powered to their first one by a veteran quarterback in Vince Young, the Bosch winner for that season, and guided through several close calls in an improbable run the next year by Bosch-winning wide receiver Mike Foster, who ended his career as the NCAA's all-time leader in receiving touchdowns, yards and receptions, as well as veteran defenders Josh Oraka and Nick DeLorenzo.
Thanks to the experience gained by numerous underclassmen in the 2007 campaign and even by some in 2006, the 2008 Crimson Tide were one of the deepest, most experienced teams in the history of college football. 18 of 22 starters from the 2007 title squad returned and the energy in Tuscaloosa was centered on a historic "three-peat." Head coach Bobby McGrady, who had taken over at Alabama in 2000, said his goal was to win four straight titles and tie Patrick O'Brien, the coach the national title trophy is named after, for most consecutive titles. Alabama opened at No. 1 by a wide margin over Sequoyah and San Diego, the other members of the Top Three, and won every game handily.
With quarterback Derek Chaffey experienced and confident thanks to a learning season with Foster to throw to, the Tide emerged as one of the best passing offenses in football, steering away from the running game that had been powered by dual-threat Vince Young and tailbacks such as Ed Giles, Julius Northcutt or Jo-Jo Jenkins. The featured back for the 2008 season was Doug Carter, who along with the returning Jenkins allowed for the first time that two players on the same team rushed for more than 1,000 yards the same season five years in a row (previous years had featured Young and other running backs achieving this eye-popping task). Chaffey threw for 3,500 yards and 24 touchdowns and was a darkhorse Bosch candidate, and the defense allowed an average of 10 points per game even without DeLorenzo at middle linebacker.
The Alabama Crimson Tide faced 11-1 Texas (a Texas team that had only lost to Alabama previously in the regular season) in the SouthCo championship game and blasted Texas behind 205 rushing yards and three touchdowns from Jenkins to win 35-14. With the No. 1 rating intact from start to finish and having won 50 consecutive games, including the postseason, since 2005, the Tide were hailed as possibly the best team in college football history.
Massachusetts Minutemen

Having won the Manhattan Bowl the previous season convincingly, the 2008 Massachusetts Minutemen returned experienced dual-threat quarterback Jonathon White for his senior season, as well as a loaded defense that returned 10 of 11 starters and almost every substitute from the previous year. For this reason, the Minutemen began the season ranked No. 5 and were expected to be the NEC champion for the fourth year in a row, despite losing leading rusher and 2007 NEC Offensive Player of hte Year Ray Rice.
Led by White and linebacker Demetrius Parsons, the Minutemen were by far the most dominant team in college football during the 2008 season, scoring more points and allowing fewer scores than the Alabama Crimson Tide, who were comfortably perched at No. 1. The Minutemen travelled to Michigan for a huge non-conference game and won 44-10, thus leapfrogging their way into the No. 3 spot after San Diego fell to Washington. In October, Sequoyah was blown out at home by Montana State and Massachusetts slid into the No. 2 ranking, which, based on their stellar play, they would keep the rest of the season. U-Mass never suffered a single upset scare and pasted every opponent, including archrival Nova Scotia, by an average score of 50-6.
Jon White, being the first quarterback in NEC history to pass for 3,500 yards and rush for 1,500, lost the Bosch Trophy to Sam Cooper of South Carolina by a narrow margin, but thanks to their 12-0 record, the Massachusetts Minutemen were sent to face the Alabama Crimson Tide in a rematch of the 1989-90 title game, which the Tide had won 27-21.
Controversy
Controversy ensued when undefeated South Carolina, which featured the nation's top statistical offense and a Bosch winner in Sam Cooper, was not picked for the national title game. Since three major-conference teams had finished unbeaten, there were arguments over whether U-Mass or USC was more worthy of the Peach Bowl bid. When South Carolina was snubbed despite its drubbing of Virginia in the Atlantic title game by a score of 49-13, many cited the fact that the Gamecocks were coached by a black man, Charlie Lassiter, as the reason they were excluded.
Most pundits dismissed this notion and instead suggested that Alabama had earned its spot by winning 50 straight games and that Harrison Ford had four national championships to his name at U-Mass, as well as the chance to stage a title game rematch, as the reason why U-Mass was picked over USC. The Gamecocks went on to blast Dakota in the January 2nd Orange Bowl 45-7, making Lassiter the first African-American head coach to win an Elite Series bowl game.
Pre-Game
Much was made of the storied history of the U-Mass program under Ford as well as the historic run being undertaken by McGrady at Alabama. The game featured a rare national championship rematch that was significantly hyped - in 1989, Ford had been attempting to win a second straight title, third in four years and fourth in a decade and led 21-20 when Alabama free safety Eugene Tate intercepted an errant Nick Pollack pass with two minutes left in the fourth quarter on third-and-fourteen and returned it 84 yards for a touchdown, and the Tide wound up winning 27-20. The "revenge factor" was hyped, even though Ford downplayed it as a motivation, citing the chance to finish an unbeaten season and win a national championship was motivation enough.
The question following McGrady was if his team could handle the pressure of a three-peat and an NCAA record 51st consecutive win - they had already broken the record when they won their 39th straight game.
Thus, the game was billed as a matchup between possibly the greatest team ever assembled and one of the best coaches in history. Harrison Ford was referred to as the lone possible savior of college football, which some pundits declared was in danger of "a permanent dynasty in Tuscaloosa." A billboard of Derek Chaffey and Jo-Jo Jenkins appeared in Atlanta prior to the Peach Bowl boldly declaring "Roll Tide: Can It Be Stopped?"
The game was broadcast on NBC and a record viewing audience for a college football title game tuned in to watch. Pianist and popular musician John Essarria played the national anthem along with three local Atlanta gospel choirs, and the halftime show featured rock group Shangri-La.
Game Summary
The game was a largely back-and-forth battle between the two squads, both of which featured very balanced offenses and defenses. Alabama jumped out to an early 10-0 lead with a Collin Edwards field goal and then, following a Massachusetts three-and-out, a 44-yard run by Jo-Jo Jenkins set up Derek Chaffey's 23-yard pass to Dane Johnson in the back of the endzone, a play after officials determined that a similar strike to Doug Carter had been caught out of bounds.
Massachusetts then tore off on a nine-minute, clock-consuming drive from their own two. Jon White was sacked for a huge loss on second and goal, but scrambled away from Alabama defensive end Trent Howard to score on a ten-yard run to cut the deficit to 10-7.
At the start of the second quarter, Massachusetts linebacker Demetrius Parsons intercepted a Derek Chaffey pass deep in Minutemen territory and Jon White led UMass on a quick scoring drive, hitting three big passing plays that were capped off with a hitch to Sanders Avery, who took the ball 14 yards after breaking Jawaine Morgan's tackle at the six-yard line.
On the next drive, Chaffey's Tide was forced to punt and Massachusetts drove downfield again. However, due to a holding call that negated a second Sanders Avery touchdown reception, Bo Bilson kicked a 46-yard field goal to give Massachusetts a 17-10 lead.
Alabama responded with a back-breaking Chaffey-to-Jenkins 73-yard pass and two plays later, Doug Carter barrelled through the Minutemen defense to score a touchdown, tying the game at 17-17.
Massachusetts, with time running out, tried to convert a fourth-down run by Andre Noonan on their next play but were stuffed. Alabama quarterback Derek Chaffey was sacked on third down with five seconds remaining, but coach Bobby McGrady used a time-out to send Edwards back out to kick a field goal - the kick barely made it through the uprights from 48 yards out, giving Alabama a 20-17 lead going into the half.
The third quarter was a defensive struggle; the teams traded field goals on the first two possessions of the quarter, making the score 23-20 for the bulk of the period. Every drive but the first two ended in either a punt or a turnover - Chaffey threw another interception to Parsons on what looked like a momentum-changing touchdown drive, while White fumbled away a ball to Trent Howard and threw a pick to CJ Jones.
Massachusetts had the ball on a strong drive at the end of the third and beginning of the fourth, and scored what appeared to be a critical touchdown to take a 27-23 lead at the top of the fourth quarter. White's pass to tight end Gregory Richardson was miscalled by the commentators as "the game's turning point."
Alabama managed to embark on a clock-consuming drive powered by Doug Carter's running, and Derek Chaffey converted a huge fourth-and-1 in Massachusetts territory to keep the drive alive. Four plays later, Chaffey was throwing a 16-yard laser to Michel Smith in the back corner of the end zone, and Alabama now led 30-27.
With only three and a half minutes left in the game, it appeared that UMass coach Harrison Ford would send his team down to kick a field goal and play for overtime. White converted a huge third-and-9 with his legs and with just over a minute left, he avoided a sack on third down, scrambled away and hurled the ball into the endzone. Situational sophomore receiver Greg Parrish made a leaping catch in double coverage and came down with both of his feet inches from the boundary in the back of the endzone to make a spectacular catch.
With a 34-30 lead, Massachusetts survived Alabama's attemtps to hurl the ball downfield, and after Chaffey's desperation fourth down Hail Mary fell flat, White took a knee to deny the Crimson Tide their third straight national championship and hand Harrison Ford his 5th title, breaking the record of four he shared with Bobby Billups, Sr.
First Quarter
BAMA - Edwards 24 yard Field Goal BAMA 3-0
BAMA - Chaffey 23 yard TD pass to Johnson (Edwards extra point is GOOD) BAMA 10-0
MASS - White 10 yard TD run (Bilson extra point is GOOD) BAMA 10-7
Second Quarter
MASS - White 14 yard TD pass to Avery (Bilson extra point is GOOD) MASS 14-10
MASS - Bilson 46 yard Field Goal MASS 17-10
BAMA - Carter 11 yard TD run (Edwards extra point is GOOD) BAMA 17-17
BAMA - Edwards 48 yard Field Goal BAMA 20-17
Third Quarter
MASS - Bilson 37 yard Field Goal MASS 20-20
BAMA - Edwards 44 yard Field Goal BAMA 23-20
Fourth Quarter
MASS - White 7 yard TD pass to Richardson (Bilson extra point is GOOD) MASS 27-23
BAMA - Chaffey 16 yard TD pass to Smith (Edwards extra point is GOOD) BAMA 30-27
MASS - White 20 yard TD pass to Parrish (Bilson extra point is GOOD) MASS 34-30
Aftermath
The Patrick O'Brien National Championship Trophy was handed to Harrison Ford and UMass President Joseph Peabody by former Notre Dame head coach Donald Trump, who was the last head coach to win a national title in the Peach Bowl. The game was hailed as an instant classic, due to the even nature of the game, Massachusett's comeback from the early deficit and the wild 4th quarter with its stunning White-to-Parrish pass.
Jon White was named the Offensive MVP for his 231 passing yards, 2 touchdowns and 1 interception as well as his 134 rushing yards and touchdown, while Demetrius Parsons was named Defensive MVP for his two interceptions, three sacks and twelve tackles. Derek Chaffey became the first starting quarterback Alabama history to lose a bowl game the year after winning one; all previous quarterbacks in bowl losses were first year starters or had not started in the bowl game the year prior.
For Harrison Ford, the game was a vindication of sorts - he won his first national title since 1995 and fifth ever, thus helping him break the tie he had with Texas legend Bobby Billups and Jim Bosch, the man who won four titles with Chicago and after whom the Bosch Trophy is named. With five titles, Ford tied Michigan legend Charles Franklin ('20, '23, '24, '25, '29) for national titles won. The only coach in history with more national titles than Ford or Franklin is Patrick "Patches" O'Brien, who has eight ('42 at Yale, '46, '51-'54, '62 and '65 at Huron).
For McGrady, it ended an unprecedented streak in the modern era - three straight national title game appearances. Maryland's bid for a three-peat was ended prematurely when they lost two games and then failed to defeat Cuba for the Atlantic title. And so, no school has won three consecutive titles since Huron won four straight in 1951-54.
The game was hailed as the best of the decade due to the stakes involved.
Ad blocker interference detected!
Wikia is a free-to-use site that makes money from advertising. We have a modified experience for viewers using ad blockers

Wikia is not accessible if you've made further modifications. Remove the custom ad blocker rule(s) and the page will load as expected.