‹ 2004  2012 ›
Republic of Superior Presidential Election, 2008
November 4, 2008
Nominee
Terrance Newman
Russ Feingold
Party
Conservative
Liberal Democrat
Home state
Keweenaw
Iron
Running mate
Horatio Weston
David Orazietti
Electoral vote
82
29
States carried
12
3
Popular vote
183,290
146,526
Percentage
44.67%
35.71%
Nominee
Tony Martin
Joe Fratesi
Party
Socialist
National Republican
Home state
Chippewa
Chippewa
Running mate
Steve Butland
Frank Lasee
Electoral vote
29
0
States carried
1
0
Popular vote
57,979
22,527
Percentage
14.13%
5.49%
Presidential election results map. Blue states are those that voted for Newman. Red states are those that voted for Feingold. Orange states are those that voted for Martin.

President before election
Randy Sarick
Conservative

Elected President
Terrance Newman
Conservative
The 2008 Presidential Election in the Republic of Superior was the seventh held in its history, with the major opponents being Former Secretary of State and Sentator Russ Feingold of Iron for the Liberal Democratic Party, Vice-President Terrance Newman for the Conservative Party, and Governor Tony Martin of Chippewa for the Socialist Party. Former Mayor Joe Fratesi of Sault Ste Marie of the National Republican Party also ran, for the second time. Vice-President Newman won the election, with about the same margin as President Sarick had when he won re-election in 2004.
Candidates
Liberal Democratic Nomination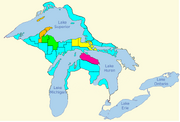 Senator and Former Secretary of State Russ Feingold, Iron
House Minority Leader David Orazietti, Chippewa
Senator Andy Neumann, Mackinaw
Congressman Michael Lahti, Houghton
Governor Steve Lindberg, Marquette
With the President unable to run again for the Presidency, 2008 meant that the Liberal Democratic candidate would likely have to face Vice-President Newman for the position - a much easier task than facing President Sarick again. With that in mind, several stronger candidates ran once again for the nomination, none of which started out of the gate with a lead of any real size in straw polls. Senate Minority Leader Marvin St. Jean hosted the convention in Baraga again this year, as well.
On the eve of the first primary, in Delta, Senator Feingold received a crucial endorsement, from former President - and now the Governor of Delta - O'Hara. With this, he won a victory there, where had not been expected to do well beforehand. With this, he began to win more and more of the primaries, taking several in which he had been expected to lose or win by smaller margins. In the end, he would lose the three largest states to their home-grown candidates, Houghton to Congressman Lahti, and a couple of the smaller states to them as well.
Feingold managed to eke out a majority of delegates, built on his immense popularity among democratic voters in the territories, and in many the border regions, along with his being well-known in general as well. At the convention, he was nominated on the first ballot, and after three ballots, House Minority Leader Orazietti of Chippewa was given the nod to be the lower half of the ticket, the delegates seeming to believe that someone from one of the larger states was needed to balance the ticket.
The convention was held from September 3rd-5th, 2008, in Baraga.
| Presidential Ballot | | Vice-Presidential Ballot | |
| --- | --- | --- | --- |
| Russ Feingold | 365 | David Orazietti | 426 |
| David Orazietti | 124 | Steve Lindberg | 103 |
| Andy Neumann | 107 | Jeffrey S. Crochet | 82 |
| Steve Lindberg | 52 | Michael Lahti | 62 |
| Michael Lahti | 25 | | |
Conservative Nomination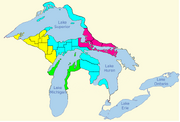 Vice-President Terrance Newman, Keweenaw
Secretary of State and Former Senator Horatio Weston, Ontonagon
Congressman Don Gilbertson, Chippewa
Territorial Representative Howard Walker, Beaver
With President Sarick unable to run again due to term limits, the Conservatives needed a replacement to run instead of the popular leader. And the obvious choice was the Vice-President, who had Sarick's support.
However, there was still those who ran against the VP. Foremost among them was the Secretary of State, Horatio Weston, who likely ran because he was more liberal than the VP, though in recent years it seems to have been over other matters related to the Lawrence Raiders. Gibertson, son of former Congressman Bernt Gilbertson, and Representative Walker of Beaver Territory, also ran, likely aiming for political support, or possibly the VP slot.
The Vice-President won a majority of delegates in the primaries, despite a very well-run campaign from Weston. In a surprising move, he would ask for Weston to be named the vice-presidential candidate, which was accepted by Weston, Weston's experience besting whatever issues might exist between the two. Both were nominated on the first ballot at the convention in Marquette, hosted by President Sarick.
| Presidential Ballot | | Vice-Presidential Ballot | |
| --- | --- | --- | --- |
| Terrance Newman | 347 | Horatio Weston | 568 |
| Horatio Weston | 189 | Don Gilbertson | 98 |
| Don Gilbertson | 98 | | |
| Howard Walker | 32 | | |
The convention was held from August 11th-13th, 2008, in Marquette.
Socialist Nomination
Governor Tony Martin, Chippewa
Mayor Steve Butland, Sault Ste Marie
Senator Mike Prusi, Marquette, 2004 VP Candidate
Congressman Peter Denley, Chippewa, 2000 VP Candidate
2008 presented an unusual year for the Socialists. For the first primary season in many, Arlen Tompkins declined to run, as did several other perennial candidates. Former Governor Symes, despite being assured the nomination if he ran, leading opinion polls by a wide margin, declined to run, saying that he felt it was time to retire, for good. Tompkins, hosting the convention and facing a strong Republican candidate in his district, was too distracted.
Most candidates that eventually filed for the nomination were from Chippewa, with only Senator Prusi opposing the three Chippewans. The first primary of the season, in Chippewa itself, would see the Senator come out on top, benefiting from the three Chippewans opposing each other. However, Denley and Martin would both place far, far, better than Mayor Butland, who failed to even garner ten percent of the vote. A week later, both Butland and Symes would endorse Governor Martin, allowing him to sweep up most of the next dozen primaries. He would continue to hold his position, despite late gains made by Prusi and Denley, who would both manage to win several of the more remote territories and states after the nomination had almost been assured to Martin by virtue of being the only one to visit them. Of course, Prusi won his home state, and Denley won several territories close to Chippewa by virtue of his own personal popularity in those areas, as well.
At the convention, Governor Martin, having achieved a majority of delegates, won the nomination on the first ballot. In a somewhat unorthodox move, both Martin and Symes endorsed Mayor Butland, the first major figure in the party to endorse Martin for the nomination, for the lower half of the ticket, feeling that they needed to do something stronger this election to fight off the opposition in Chippewa, which they had barely won in 2004. Prusi did not like this move, feeling the position should be his, but eventually went along with the party line, being promised the position next time, if he failed to win the nomination outright. As a result of this deal, enough of Prusi's supporters would move to supporting Mayor Butland for the nomination to pass.
The convention was held from July 21st-23rd, 2008, in Escanaba.
| Presidential Ballot | | Vice-Presidential Ballot | |
| --- | --- | --- | --- |
| Tony Martin | 339 | Steve Butland | 365 |
| Mike Prusi | 231 | Mike Prusi | 273 |
| Peter Denley | 66 | | |
| Steve Butland | 2 | | |
National Republican Nomination
Former Mayor Joe Fratesi, Sault Ste Marie, 2000 VP Candidate and 2004 Candidate
Territorial Commissioner Frank Lasee, Kewaunee
At the behest of Fratesi, the convention was held in Sault Ste. Marie this year, as he refused to attend otherwise, and as such, he served as the host. In one of his last public appearances, the 2000 candidate of the party, former General Agramant LeGarde, attended parts of the convention, in a surprise move. He would pass on in 2010 from heart failure.
Mayor Dan Benishek of Iron River did not attend, as he was running for the House seat back in Iron River, and held no interest this time around. Once again, no primaries were held, as according to the party line, it was a "unnecessary expense."
Fratesi would capture the nomination once again, his unwillingness to campaign this year - it was still felt by most of the party membership that the only other real candidate, Territorial Commissioner Frank Lasee of Kewaunee, was not experienced enough for the role, nor would they help the party with capturing more votes, as Fratesi would do in Chippewa. Lasee, however, would be given the VP slot on the ticket.
The convention was from May 19th-21st, 2008, in Sault Ste Marie.
| Presidential Ballot | | Vice-Presidential Ballot | |
| --- | --- | --- | --- |
| Joe Fratesi | 312 | Frank Lasee | 576 |
| Frank Lasee | 264 | | |
Campaign, and the Election
Vice-President Newman, running on the coattails of President Sarick and with his support, led for the entire campaign over Feingold, usually by two or three percent, but the final results on election day, with a greater difference, were a surprise. Apparently, the large amount of fog on the peninsula that morning hampered Democratic efforts to bring their supporters to the polls, resulting in a larger victory than expected - either that, or the pollsters had been dreadfully wrong.
Debates between the two, as well as Fratesi and Martin, were evenly split - if the debate was about foreign policy, Feingold easily won, while with domestic policy, Newman won. In the Vice-Presidential debate, both the National Republicans and the Socialists, with their inexperienced candidates, were slaughtered by the others, with Weston having a commanding advantage, even over the Minority Leader.
The campaign held no real major issues, though the disputes from 2004 - now usually referred to as the "Canada Matter" by the press - still simmered, with the Democrats taking a position this time closer to that of the Conservatives. Defense spending, taking a higher percentage of government funding than most would like, came into play towards the end of campaigning, though in the end mattered little.
On election day, the Socialists took Chippewa, by an increased margin, though their numbers did lower slightly elsewhere, and the Liberal Democrats gained Feingold's home state of Iron, and the states of Baraga and Mackinaw. The Conservatives would take the rest, though Menominee and Mackinac would be by small margins - two and four percent, respectively - over the Liberal Democrats. Liberal Democratic numbers dropped somewhat, as did the Conservative numbers, and the other parties both increased their totals at their expense. Voter turnout rebounded even more, with, out of an estimated voting population of 502,535, 81.65%, or 410,320 people, voting.
| Presidential Candidate | Political Party | Home State | Popular Vote Count | % | Electoral Vote Count | Running Mate | Home State |
| --- | --- | --- | --- | --- | --- | --- | --- |
| Terrance Newman | Conservative | Keweenaw | 183,290 | 44.67% | 82 | Horatio Weston | Ontonagon |
| Russ Feingold | Liberal Democrat | Iron | 146,526 | 35.71% | 29 | David Orazietti | Chippewa |
| Tony Martin | Socialist | Chippewa | 57,979 | 14.13% | 29 | Steve Butland | Chippewa |
| Joe Fratesi | National Republican | Chippewa | 22,527 | 5.49% | 0 | Frank Lasee | Kewaunee |
Ad blocker interference detected!
Wikia is a free-to-use site that makes money from advertising. We have a modified experience for viewers using ad blockers

Wikia is not accessible if you've made further modifications. Remove the custom ad blocker rule(s) and the page will load as expected.