The 2006 Orange Bowl was the final game of the 2005-06 NCAA Division I College Football season, and featured a contest between the No. 1 Sequoyah Braves and No. 2 San Diego Tritons. The heavily-favored and undefeated Braves, led by Bosch-winning quarterback Brad Reese, suffered a stunning upset in a 33-17 rout, including being shut out in the second half, giving San Diego their first-ever national championship. The game was televised on CBS and was watched by a then-record audience.
2005-06 Season
San Diego Tritons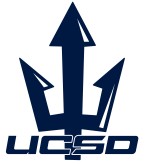 The San Diego Tritons were coming off of an extremely successful 2004-05 season in which they finished the regular season 11-1, their star quarterback Malcolm Ross won the Bosch trophy and they upset heavily favored Notre Dame in the Rose Bowl to end the year ranked No. 2. They entered the 2005 season with Ross and eight other offensive starters as well as ten defensive starters returning ranked No. 1 in almost every poll and were favored to reach the national title game - however, the Tritons were stunned on the road in Firchdale, Pacifica in early October by the surprising Pacifica State Ravens, led by offensive wizard Art Billen and quarterback Jimmy Allison, losing on a last-second field goal 30-28. However, the Tritons continued to rack up wins, including their first win against hated Washington under head coach Bill Pullman by a convincing margin of 31-10 at home in front of a record crowd at Joe Robbie Stadium.
The Tritons entered the final weekend of the season ranked No. 4 behind No. 1 Sequoyah, surprise undefeated squad and PCC Northwest champion, No.2 Pacifica State, the only team to beat them all season and No. 3 Alabama, which was 11-1. This effectively meant that the PCC champion was guaranteed a berth against No. 1 Sequoyah, despite protestations from Alabama. San Diego defeated PacState in the Tacoma Dome in what was effectively a second road matchup against the Ravens 41-36 in a shootout and punched their ticket to their first national championship game since the 1982-83 season. Alabama fans were furious over being leapfrogged for a chance at the national title when they had entered the weekend ranked higher than San Diego.
Sequoyah Braves
Pre-Game Buildup
Game Summary
Postgame
Ad blocker interference detected!
Wikia is a free-to-use site that makes money from advertising. We have a modified experience for viewers using ad blockers

Wikia is not accessible if you've made further modifications. Remove the custom ad blocker rule(s) and the page will load as expected.