The 2000 United States presidential election was a contest held on November 7, 2000 between Democratic President Al Gore of Tennessee and Republican candidate Senator John S. McCain of Arizona. Thanks to the strongest economy since the Eisenhower years in the 1950's and Gore's handling of the Republican-controlled Congress elected in the 1998 Republican Revolution, as well as his lauded foreign policy, infrastructure and clean energy initiatives, rolled to a landslide reelection victory credited with helping Democrats win back control of the Senate.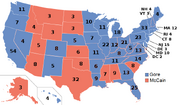 Ad blocker interference detected!
Wikia is a free-to-use site that makes money from advertising. We have a modified experience for viewers using ad blockers

Wikia is not accessible if you've made further modifications. Remove the custom ad blocker rule(s) and the page will load as expected.