‹ 1996  2004 ›
Republic of Superior Presidential Election, 2000
November 7, 2000
Nominee
Randy Sarick
Arlen Tompkins
Party
Conservative
Socialist
Home state
Marquette
Delta
Running mate
Terrance Newman
Peter Denley
Electoral vote
126
10
States carried
14
1
Popular vote
158,184
55,728
Percentage
49.39%
17.4%
Nominee
Marvin St. Jean
Agramant LeGarde
Party
Liberal Democrat
National Republican
Home state
Baraga
Chippewa
Running mate
Debbie Amaroso
Joe Fratesi
Electoral vote
3
0
States carried
1
0
Popular vote
103,481
2,883
Percentage
32.31%
0.9%
Presidential election results map. Blue states are those that voted for Sarick. Red states are those that voted for St. Jean. Orange states are those that voted for Tompkins.

President before election
Joseph O'Hara
Liberal Democrat

Elected President
Randy Sarick
Conservative
The 2000 Presidential Election in the Republic of Superior was the fifth held in its history, with the major opponents being Senator Marvin St. Jean of Baraga for the Liberal Democratic Party, Governor Randy Sarick of Marquette for the Conservative Party, and Governor Arlen Tompkins of Delta for the Socialist Party. Retired General Agramant LeGarde of the newly-formed National Republican Party also ran. Largely due to a moderation of Conservative policies, and a severe backlash against the fiasco in Madison, which despite it being a Conservative-supported idea, was blamed by the population on President O'Hara and the Liberal Democrats, Governor Sarick won a large majority and the Democrats did as bad as the Conservatives did running against President Stowe in 1988. The Socialist Party gained a breakthrough, winning both a record number of votes and vote percentage for their party, and even some electoral votes, in fact gaining more than the Liberal Democratic candidate despite having less popular votes.
Candidates
Liberal Democratic Nomination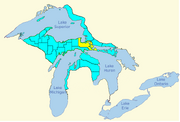 Senator Marvin St. Jean, Baraga
Mayor Debbie Amaroso, Sault Ste Marie
Former Congressman Paul King, Chippewa
With the disaster in Madison, despite the eventual successful resolution, it was obvious that the Liberal Democratic candidate would lose, and badly. It was just a question of who it would be. Vice-President Gruszynski, when asked if he was interested, flatly refused, saying "....in the future, maybe. But now? I would have about as much of a chance of winning as a fish has on land."
Senator Marvin St. Jean of Baraga, feeling that it would his only chance to try and his best chance by far to get the nomination, was the only real candidate that dared enter the race. In his memoirs, he has gone on record as saying that not even he thought he had any chance of winning, but thought that there was always the chance that some sort of scandal could strike the Governor, and from that he could win. Given all things, his early declaration of candidacy also led to the convention being held in his state.
Mayor Debbie Amaroso of Sault Ste. Marie also threw her hat into the ring for the nomination. However, she did not seriously run for the job, merely using it to try and get her name out nationally. Despite winning the Chippewa primary, the only one St. Jean did not win, she did no campaigning at all.
Former Congressman Paul King, one of the leading sponsors of the Dunn-King-Theriualt Act in 1994, also ran, despite having been out of politics since losing to a Conservative candidate in his congressional seat in 1996. This combined with his lack of campaigning left him being referred to as a "joke" candidate.
The Senator easily won the nomination, and Mayor Amaroso allowed herself to be nominated for the vice-presidential slot.
The convention was held from September 4th-6th, 2000, in Baraga.
| Presidential Ballot | | Vice-Presidential Ballot | |
| --- | --- | --- | --- |
| Marvin St. Jean | 548 | Debbie Amaroso | 532 |
| Debbie Amaroso | 75 | Paul King | 91 |
Conservative Nomination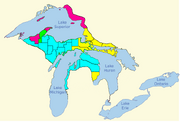 Governor Randy Sarick, Marquette, 1996 VP Candidate
Governor Terrance Newman, Keweenaw
Congresswomen Cassandra J. Holiday, Houghton
Speaker of the House Robert P. Griffin, Schoolcraft, 1996 Presidential Candidate
Senate Majority Leader James Kelleher, Chippewa, 1992 VP Candidate
Councillor Bryan Hayes, Sault Ste. Marie
Mayor Dan Meyer, Bessemer
Unlike the Liberal Democratic nomination, the Conservative nomination was very contested, for all knew that barring some sort of major bombshell, whoever won the nomination would be the next president of the republic. However, it was also expected that Governor Sarick of Marquette would win the nomination at the convention, hosted by Senator Horatio Weston in Ontonagon this year.
While this proved to be correct, Sarick also had to fight hard for the nomination, not achieving a majority of delegates until the final week of the primaries, when he gained a crucial endorsement from Governor Newman as he dropped out of the race and then won the Mackinaw primary handily. In return for this support, Newman was picked by Sarick to be nominated for the vice-presidential slot, which he won easily as well.
The convention was held from August 21st-23rd, 2000, in Ontonagon.
| Presidential Ballot | | Vice-Presidential Ballot | |
| --- | --- | --- | --- |
| Randy Sarick | 384 | Terrance Newman | 548 |
| James Kelleher | 153 | Cassandra J. Holiday | 50 |
| Terrance Newman | 47 | Dan Meyer | 11 |
| Cassandra J. Holiday | 28 | Horatio Weston | 3 |
Socialist Nomination
Governor Arlen Tompkins, Delta, 1992 and 1996 VP Candidate
Congessman Peter Denley, Chippewa
Councillor Tony Martin, Sault Ste Marie
Governor Cyril Symes, Chippewa
After being the vice-presidential candidate in the last two elections, it was felt by many, including the party leadership, that Governor Tompkins had done his time and now deserved a shot at the nomination. However, given the weakness of the Democrats, this year was seen as the best chance the Socialists would have for a long time to do well, so in brought candidates out of the woodwork for the nomination. At the request of Congressman Kucinich, and the party leadership, the convention moved to Mackinaw for the year as well.
Governor Tompkins would go on to win the majority of the primaries, even besting out Governor Symes in Chippewa, though the numbers were closer than the number of victories made it seem.
Tompkins would win a narrow victory on the first ballot at the convention. The vice-presidential nominations would take long, going six ballots, resulting in the eventual nomination of Congressman Denley of Chippewa.
The convention was held from July 10th-12th, 2000, in Mackinaw City.
| Presidential Ballot | | Vice-Presidential Ballot | |
| --- | --- | --- | --- |
| Arlen Tompkins | 318 | Peter Denley | 323 |
| Cyril Symes | 214 | Mike Prusi | 223 |
| Peter Denley | 41 | Tony Martin | 47 |
| Tony Martin | 20 | | |
National Republican Nomination
Retired General Agramant LeGarde, Chippewa, 1984 Independent Presidential Candidate
Former Mayor Joe Fratesi, Sault Ste Marie
2000 marked the first election that the newly-founded National Republican Party ran candidates in, though they were not on the ballot in all states. To give them more of a national opening, they held their convention in Marquette. No primaries were held, like in the other parties, and everything was decided at Marquette, including matters of policy.
Only two political figures of any stripe had attached themselves to the party by this time, both long retired. Former Mayor Joe Fratesi of Sault Ste. Marie, and Retired General Agramant LeGarde of Chippewa, both of whom held views further to the right of most Republicans, attached themselves to the party, feeling that their home state was being ruined by the Socialists and Liberal Democrats. LeGarde had to be convinced to run on the ticket, given his age, and refused to campaign or to ever run again. Fratesi, then, had to do it all himself, though even he did not campaign far from Marquette or Sault Ste. Marie.
The convention was on April 18th, 2000, in Marquette.
Campaign, and the Election
The campaign itself was pretty straightforward. All of the other parties attacked Senator St. Jean over the Madison expedition extensively, despite his lack of involvement in the matter. Despite Liberal Democratic attempts to find something, they could not dig up anything in Governor Sarick's past that could help them, at all.
The debates were just as one-sided as the election itself, with both Tompkins and Sarick ripping into St. Jean. Sarick managed to win all of these debates, though the performance of Tompkins, just as it would in the election itself, surprised many. The vice-presidential debate went much the same way. LeGarde and Fratesi were not invited to participate in any of these debates.
Most Liberal Democrats abstained from campaigning, not wanting to be involved with what they knew to be a lost election from the start. The Conservatives and Socialists, on the other hand, did so extensively, for the opposite reasons, with Governor Tompkins even declining to run for re-election in Delta to campaign even more. The National Republicans did almost nothing, with Fratesi making a single appearance in Marquette in August, and appearing at a pair of events in Sault Ste. Marie in October.
The election went more or less as expected, though the Socialists surprised many with their performance, besting the Liberal Democrats in the electoral vote and managing to triple their vote percentage, largely at their expense as well. This election marked the lowest voter turnout in the history of the Republic, by a large margin, with a number of voters not wanting to vote for any of the parties. Out of a estimated total voting population of 474,338, 67.52%, or 320,276 people, voted, large numbers staying away from the polls entirely.
| Presidential Candidate | Political Party | Home State | Popular Vote Count | % | Electoral Vote Count | Running Mate | Home State |
| --- | --- | --- | --- | --- | --- | --- | --- |
| Randy Sarick | Conservative | Marquette | 158,184 | 49.39% | 126 | Terrance Newman | Keweenaw |
| Arlen Tompkins | Socialist | Delta | 55,728 | 17.4% | 10 | Peter Denley | Chippewa |
| Marvin St. Jean | Liberal Democrat | Baraga | 103,481 | 32.31% | 3 | Debbie Amaroso | Chippewa |
| Agramant LeGarde | National Republican | Chippewa | 2,883 | 0.9% | 0 | Joe Fratesi | Chippewa |