The 1999-2000' Chicago Bowl' was the final game of the 1999 NCAA Division I college football season, pitching No. 1 Florida State against No. 2 Huron for the national championship. Huron would win 35-34 in a nail-biting thriller to take home their 10th national title, becoming only the second modern major-power to reach double-digit titles (the other being Michigan, with 13 national championships).
1999 College Football Season
Florida State Seminoles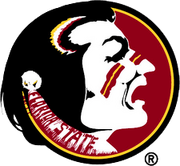 The Seminoles, after having reloaded during the 1998 season, entered the season ranked No. 5 despite not even winning their own division or their Elite Series bowl game the previous season. Still, FSU featured wide receiver Ike Taylor, who led the country in receptions, receiving yards and total touchdowns for a non-quarterback in 1999, starting talk of a potential Bosch candidacy. The Seminoles quickly clawed their way up to No. 1 thanks to a monstrous upset of then-No. 1 Maryland in "neutral site" Baltimore before blasting No. 7 Virginia at home. Taylor and fellow receiver Arnold Young combined for the most receiving yards in school history, and quarterback Jon Fike set a school passing record.
The Seminoles entered the Atlantic Championship Game ranked No. 1 and were facing No. 10 North Carolina, whom the Seminoles defeated earlier in the season for the Tar Heels' only loss. Fike threw for four touchdowns and Florida State was headed to their second national title game in three years courtesy of a 31-0 pasting of the Tar Heels.
Huron Highlanders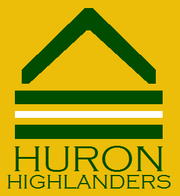 Huron was in the second year of the Brett Estevez regime - the former Cincinnati Bengals defensive coordinator had only been 35 years old when hired in the winter of 1998 to replace the retired Randy Edison and had devised defenses that had won two AFL championships despite being of an impressively youthful age. While his hire had been questioned by some in Huron due to his youth and lack of college experience, Estevez had strung together a 9-3 regular season in 1998 capped with finishing second in the Lakes Crest Division to 11-1 Michigan and had then handed Huron a 15th consecutive 10-win season thanks to the Chicago Bowl victory over a superior LSU, and Huron ended the year ranked No. 12, their first season since 1988 ranked outside of the Top Ten.
In 1999, the vultures continued circling over Estevez as his team won its opening games by a narrow margin, but the offense under coordinator Bill Martin began to gel as the season progressed and the quarterback, Patrick Symonds, emerged as a legitimate Bosch candidate. Estevez's slogan became "Just Win, Baby" as the Highlanders continued pounding opposition, winning their final five games by an average margin of 23 points.
The Highlanders entered the Lakes Championship Game in Yorktown undefeated and ranked No. 2, facing off against undefeated Missouri, ranked No. 3. The winner would go on to face either No. 1 Florida State or, barring an FSU upset, No. 4 Kansas in the national title game. Huron defeated the "Terrible Tigers" and their No. 1 ranked defense 24-21 on a last-second field goal to send the Highlanders to their third national title game of the decade. The inclusion of Huron over fellow unbeaten Kansas was controversial due to the Jayhawks having won three straight conference titles and four straight Elite Series bowl games. Patrick Symonds would finish fourth in Bosch voting.
Pre-Game
Game Summary
The game started badly for the Highlanders, as Arnold Young returned the opening kickoff 73 yards to the Huron 20 yard line, and from there the Seminoles made it 7-0 with an easy Jon Fike pass to Ike Taylor from 13 yards out two plays later. Huron was forced to punt on their next possession, but managed to force a Torry Martin fumble on their own 14 when the Seminoles drove it downfield on their second offensive drive. From there, Patrick Symonds skillfully guided Huron on a twenty-two play scoring drive that ate up ten minutes of clock time and running back Josh Hope scored from the 2-yard line with two seconds left in the first quarter to tie the ball game up after one period.
Fike took the 'Noles back down the field and hit Young for another passing touchdown to open the second half. The teams traded punts on three-and-outs before Symonds hit Reggie Woolworth for a 45-yard gain to the Florida State 4 yard line. Hope scored another rushing touchdown to tie the game up. Florida State managed to get a field goal off as the first half expired, leading 17-14 at the half.
Huron took the ball downfield on their first possession of the second half and Symonds threw a 22 yard TD pass to Kevin Holmes to take the first lead of the game. FSU only managed a field goal on their next drive, making the score 21-20, and then the wild second half took shape. Symonds threw interceptions on both of his next possessions, the second one returned 41 yards for a touchdown by JaRell Hawk to make the score 27-21. On the very last play of the third quarter, Symonds managed to hit Holmes for another game-saving gain, a 60-yard strike from the Huron 8 yard line. Four plays later, early in the fourth quarter, Huron running back Josh Hope broke free from a Kalim Marshall tackle to make a 31 yard touchdown run to put Huron ahead by one point.
FSU responded by driving downfield, but Fike threw an interception in the end zone and Huron attempted to pull ahead. However, a critical completion was reversed and the Highlanders, backed up on fourth down, were forced to punt. The Seminoles marched the ball downfield and scored on another Fike-to-Taylor pass. Now up 34-28 with only 2:21 remaining, Florida State appeared to be in a commanding position.
However, Symonds managed to shake loose his previous interceptions and marched the Highlanders downfield. He narrowly avoided a third interception on an errant incompletion and got the Highlanders down into the red zone with only twenty seconds left. Their next two plays failed to produce touchdowns. Brett Estevez, having saved his last two timeouts, managed to stop the clock with his last timeout as third down came up with seven seconds left in the game. Symonds faked a pass and plunged into the end zone from three yards out himself to score the game-tying six points. Allowed a PAT as there was still a second on the clock, the Highlanders converted the extra point, winning their 10th national title and third in the 1990's, and validating Estevez's maligned hiring as Huron head coach.
First Quarter
FSU - Fike 13 yard TD pass to Taylor (Roberts extra point is GOOD)
HUR - Hope two yard TD run (Dixon extra point is GOOD)
Second Quarter
FSU - Fike eight yard TD pass to Young (Roberts extra point is GOOD)
HUR - Hope four yard TD run (Dixon extra point is GOOD)
FSU - Roberts 45 yard Field Goal
Third Quarter
Fourth Quarter
Postgame and Legacy
The Patrick O'Brien National Championship Trophy was presented to Brett Estevez by Chicago Bears legends Mike Singletary, Mike Ditka and Walter Payton. Josh Hope was named the game's MVP thanks to his 143 rushing yards and three touchdowns, although Patrick Symonds' game-winning plunge is likely the most memorable of the evening and he is often cited as the game's hero, ironically considering his abysmal second half outside of his final drive.
Following the game, Estevez's detractors became much less vocal. He would not win fewer than 10 games any season with the Highlanders until 2006, and won a second national title in 2004 after losing the national championship to Washington in '03, and coached a Bosch winner in Trent Johnson that same season. Estevez was poised to repeat as national champion in 2000 but lost in the Lakes title game to Notre Dame, which became something of a rival to Estevez as they would face one another in the 2000, 2001, 2003 and 2004 Lakes Championship Games, splitting those matches 2-2. Symonds would declare for the 2001 AFL Draft and is regarded in most circles as a major bust, never starting a single game of professional football and leaving the game in 2008. Hope, however, would enjoy success with the Detroit Lions after being drafted in 2000.
The Florida State Seminoles failed to win two titles in three seasons, but have enjoyed success throughout the 2000's. Head coach Jack Crystal's offense has guided FSU to Atlantic titles in 2000, 2002 and 2005 in addition to division titles in 2001, 2003 and 2009, and they have dominated arch nemesis Florida throughout his tenure. Ike Taylor went on to star with the Baltimore Colts, having won three NFL titles with that franchise as of 2010. His number, 89, was retired by Florida State in 2003.
Ad blocker interference detected!
Wikia is a free-to-use site that makes money from advertising. We have a modified experience for viewers using ad blockers

Wikia is not accessible if you've made further modifications. Remove the custom ad blocker rule(s) and the page will load as expected.