A timeline of events in the 19th century of Their British America.
Timeline
Acts of Union (1801)
Change in the Americas
Status of British America
Confederation of Peru (1826)
Mexican Wars
Austro-Prussian Union (1841)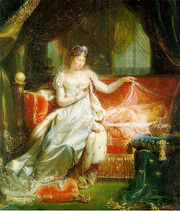 Holy Roman Empire Unites
Great Game Boils (late 1850s)
Japan Opens Relations (1858)
Russia Expands into China
Influence in Persia
Conflicts in Tibet
Wars in Arabia
Colonization in Africa
Abyssinia
Mauritania
Formation of the Commonwealth (1898)
Ad blocker interference detected!
Wikia is a free-to-use site that makes money from advertising. We have a modified experience for viewers using ad blockers

Wikia is not accessible if you've made further modifications. Remove the custom ad blocker rule(s) and the page will load as expected.