Ad blocker interference detected!
Wikia is a free-to-use site that makes money from advertising. We have a modified experience for viewers using ad blockers

Wikia is not accessible if you've made further modifications. Remove the custom ad blocker rule(s) and the page will load as expected.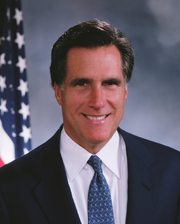 In this TL, American backlash against President Clinton's attempted healthcare reform is much greater

Election Night, 1994: Republicans gain 81 seats in the House of Representatives, as well as 13 in the senate, the best showing for a midterm since 1938, and the first time the GOP is in full control of Congress since 1952. The GOP totals are 257 in the house and 56 in the senate. The great surprise of the night was businessman Mitt Romney's victory over longtime senator and "Lion of the Senate" Ted Kennedy, marking the first time since 1946 that a Kennedy was not seeking or holding elected office; another was Judge James L. Buckley reclaiming his old senate seat from Daniel Patrick Moynihan.
In 1996, Phil Gramm announces that he will not seek re-election to his senate seat but he is running for president. Representative Ron Paul announces his candidacy for the open seat.
Phil Gramm and Ron Paul win their respective nominations, and both take slam the president on his attempted health care reform. Gramm picks Freshman Senator Mitt Romney as his running mate. Both Gramm and Paul will win their elections, with the GOP picking up 9 senate seats and 17 in the House, bringing the GOP totals to 65 in the senate and 274 in the House.
1996 election:
[img]http://uselectionatlas.org/TOOLS/genusmap.php?year=1996&ev_c=0&pv_p=0&ev_p=1&AL=2;9;5&AK=2;3;5&AZ=2;8;4&AR=1;6;5&CA=2;54;5&CO=2;8;4&CT=1;8;5&DE=1;3;5&DC=1;3;8&FL=2;25;4&GA=2;13;4&HI=2;4;5&ID=2;4;5&IL=2;22;5&IN=2;12;4&IA=2;7;5&KS=2;6;5&KY=2;8;4&LA=2;9;5&MD=1;10;5&MA=1;12;6&MI=2;18;5&MN=1;10;5&MS=2;7;4&MO=2;11;4&MT=2;3;4&NV=2;4;4&NH=2;4;4&NJ=2;15;5&NM=2;5;4&NY=1;33;5&NC=2;14;4&ND=2;3;4&OH=2;21;4&OK=2;8;4&OR=2;7;4&PA=2;23;4&RI=1;4;5&SC=2;8;4&SD=2;3;4&TN=2;11;4&TX=2;32;4&UT=2;5;5&VT=1;3;5&VA=2;13;4&WA=2;11;4&WV=2;5;5&WI=2;11;4&WY=2;3;4&ME=2;2;5&ME1=2;1;5&ME2=2;1;5&NE=2;2;5&NE1=2;1;4&NE2=2;1;5&NE3=2;1;5[/img]