‹ 1988  1996 ›
Republic of Superior Presidential Election, 1992
November 3, 1992
Nominee
Joseph O'Hara
Lewis Poulat
Karl Morin-Strom
Party
Liberal Democrat
Conservative
Socialist
Home state
Delta
Ontonagon
Chippewa
Running mate
Stan Gruszynski
James Kelleher
Arlen Tompkins
Electoral vote
75
41
0
States carried
7
8
0
Popular vote
167,593
125,539
18,379
Percentage
53.8%
40.3%
5.9%
Presidential election results map. Blue states are those that voted for Poulat. Red states are those that voted for O'Hara.

President before election
Robert S. Stowe
Independent Democrat

Elected President
Joseph O'Hara
Liberal Democrat
The 1992 Presidential Election in the Republic of Superior was the third held in its history, with the major opponents being Joseph O'Hara, the Liberal Democratic Vice-President, and Major-General Lewis Poulat, who won the nomination of the deeply divided Conservative Party. Sault Ste. Marie City Councillor Karl Morin-Strom ran for the Socialist Party as well. This marked the first election in the history of the republic where debates were held between the candidates as well. Despite leading for much of the campaign, Poulat ended up losing to O'Hara badly after revelations from his time serving in the Mackinaw Refugee Camps and during the February 3rd Massacre caused him to plummet in the polls.
Candidates
Liberal Democrat Nomination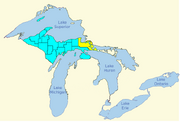 Vice-President Joseph R. O'Hara
Former Congressman Dennis Kucinich, Mackinac
Senator Wilbur K. Carnahan, Chippewa, 1984 Presidential Candidate
Running with the support and coattails of President Stowe, Vice-President O'Hara was, correctly, considered to be a shoe-in for the nomination. In this, he was opposed by Former Congressman Dennis Kucinich, holding a grudge for his failure in 1988 and subsequent failure to get the Liberal Democratic nomination in his district, and Senator Carnahan of Chippewa, who wanted another crack at the Presidency and disagreed with the more Conservative views of O'Hara.
In the end, O'Hara would win all but one state, losing Chippewa to Carnahan. O'Hara threw the vice-presidential choice to the delegates, who after five rounds of voting, chose Governor Stan Gruszynski of Menominee for the role.
The convention was held from September 2nd-4th, 1992, in Mackinac.
| Presidential Ballot | | Vice-Presidential Ballot | |
| --- | --- | --- | --- |
| Joseph R. O'Hara | 352 | Stan Gruszynski | 272 |
| Wilbur K. Carnahan | 122 | John Kerin | 109 |
| Dennis Kucinich | 29 | Jack Theriault | 81 |
| | | Gary McDowell | 41 |
Conservative Nomination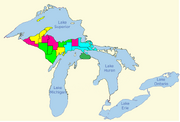 Major-General Lewis Poulat
Governor Thomas M. Cates, Republican, Keweenaw, 1988 VP Candidate
Governor Thierry Pouchard, Republican, Chippewa
Senator James Kelleher, Chippewa
Congressman Leroy S. Atlas, Menominee, 1984 VP Candidate
The Conservative Party came into the convention the most divided. While all agreed that with President Stowe unable to run again, and they now had a chance to win, they were unable to decide on a candidate. No single candidate one a majority of the delegates in the primaries, and it went to the convention, with Governor Pouchard ahead in the votes but far short of a majority.
A dozen rounds of voting went by, with no resolution. Other names were added to the lists, it attempts at compromise, though these failed. Just before the 13th ballot, a member of the Superioran Army and well-known figure from the Mackinaw Riots, Major-General Lewis Poulat, threw his hat into the ring, in a major surprise. Even more surprising, was that after two more ballots, several of the candidates, starting with Senator Kelleher, began to throw their support behind the General, pushing him to victory on the 22nd ballot. The General then asked for the Senator to be named his vice-presidential candidate, and he was nominated such on the first ballot.
The convention was held from August 17th-19th, 1992, in Schoolcraft.
| Presidential Ballot | | Vice-Presidential Ballot | |
| --- | --- | --- | --- |
| Lewis Poulat | 289 | James Kelleher | 426 |
| Thierry Pouchard | 138 | Thomas M. Cates | 28 |
| Thomas M. Cates | 38 | Thierry Pouchard | 18 |
| Randy Sarick | 7 | | |
| Leroy S. Atlas | 4 | | |
| James Kelleher | 2 | | |
Socialist Nomination
Councillor Karl Morin-Strom, Sault Ste Marie, 1988 VP Candidate
Councillor Arlen Tompkins, Escanaba
Congressman Steven Bolden, Sault Ste Marie, 1988 Presidential Candidate
In the four years since the last convention, more socialists had been elected to political office around the republic, meaning that unlike in 1988, there was actually a need to take a vote at the convention, once again held in Sault Ste Marie. Congressman Bolden ran again, as did Councillor Morin-Strom, but recently-elected Councillor Arlen Tompkins, from the city of Escanaba in Delta, ran as well. Senator Symes declined to run, once again. However, there was still no primaries held due to the expense involved.
After a ballot in which no candidate held a majority, pressure from the party leadership on Bolden, given his poor showing in 1988, swung a number of his supporters into the other two camps, but still denied either a majority. After another vote, Strom was ahead of Tompkins in the voting, but still without a majority. Strom, favored by the majority of the leadership, was then able to have a deal with Tompkins brokered by the leadership, in which if he gave his support to Strom, the party would give him all possible support in Delta, the VP slot, and would move the convention to Escanaba for 1996. With this deal, the next vote swung massively in favor of Strom, who won the nomination handily. The same result was seen with Tompkins for the VP slot.
The convention was held from July 8th-10th, 1992, in Sault Ste Marie.
| Presidential Ballot | | Vice-Presidential Ballot | |
| --- | --- | --- | --- |
| Karl Morin-Strom | 189 | Arlen Tompkins | 245 |
| Steven Bolden | 56 | | |
Campaign, and the Election
Poulat, being one of the well-known heroes from the riots in the Mackinaw Refugee Camp, immediately shot out in front in the polls, usually by a margin of five or six points over O'Hara. For a long time, it even appeared that the General would win the election by a comfortable margin.
Their differences over the issues of Thunder Bay, and Madison, along with their opinions over the Mackinaw issue, kept those numbers that way until mid-October. On October 19th, The Mining Journal, the daily newspaper in Marquette and the largest in the republic, released information and pictures taken from the Mackinaw Refugee Camp during the riots. In these pictures, it could be plainly seen that Poulat had allowed some very unsavory things, usually involving beating restrained prisoners, to be done to some of the rioters, and even participated in one of the events during the February 3rd Massacre and its aftermath.
Once this news broke, Poulat plummeted in the polls. Despite attempts to remove the issue from the election, and to use lingering feelings from the riots to make it go away, it never did, and Poulat lost the election, badly. Out of an estimated voting population of 361,422, 86.19%, or 311,511 people, voted.
| Presidential Candidate | Political Party | Home State | Popular Vote Count | % | Electoral Vote Count | Running Mate | Home State |
| --- | --- | --- | --- | --- | --- | --- | --- |
| Joseph O'Hara | Liberal Democrat | Delta | 167,593 | 53.8% | 75 | Stan Gruszynski | Menominee |
| Lewis Poulat | Conservative | Ontonagon | 125,539 | 40.3% | 41 | James Kelleher | Chippewa |
| Karl Morin-Strom | Socialist | Chippewa | 18,379 | 5.9% | 0 | Arlen Tompkins | Delta |
Ad blocker interference detected!
Wikia is a free-to-use site that makes money from advertising. We have a modified experience for viewers using ad blockers

Wikia is not accessible if you've made further modifications. Remove the custom ad blocker rule(s) and the page will load as expected.